Nathan Fillion and Alan Tudyk's Con Man, the first webseries to pack Hall H, premiered this hilarious trailer of the funnier side of con life to a room full of con goers.
It was also host to a packed panel of science fiction faces: Michael Trucco (Battlestar Galactica), Seth Green, Alison Haislip, Nolan North, Casper Van Dien, Tricia Helfer, Mindy Sterling, Felicia Day, Wil Wheaton, Barry Bishop, Sky Haarsma, P.J. Haarsma (producer).
Here's an official synopsis of Con Man:
The series is a lighthearted take on the personalities, luminaries, comic book stores, and characters they have run into during their years in the sci-fi community and convention circuit, while telling the story of a guy learning to love and embrace his fans. CON MAN centers around the post-show life of Wray Nerely (Alan Tudyk), the pilot and co-star of SPECTRUM, a sci-fi series which was cancelled before it's time and eventually became a cult classic beloved by fans. Wray's good friend, Jack Moore (Nathan Fillion) starred in the series and has gone on to become a major celebrity, while Wray continued to struggle to find his big break. While Jack enjoys the life of an A-lister, Wray tours the sci-fi circuit as a guest of conventions, comic book stores, and lots of pop culture events. The show will explore all the weird and crazy things that happen to Wray along the way, while telling the story of a guy learning to love and embrace his fans.
Added to them are the characters we heard about in the panel. Michael Trucco as a cop with anger problems that pulls over Fillion's Jack Moore. Seth Green as a comic store owner hosting a mini con, where everyone else gets to do great monologues while Wray reads from an old TV show with racist undertones. Alison Haislip plays Jack Moore's assistant, who never sees Moore except through Skype. Nolan North is the second best motion capture actor behind "that bastard Andy Serkiss." Casper Van Dien plays the only bartender in Con Man's world, every bar they go to, an unimpressed Van Dien is there. Tricia Helfer is Louise who Wray meets when he accidentally ends up at the wrong con — a doll con. They go on a date which doesn't end quite right. Mindy Sterling — who explained that she was the only one in the show who didn't know and had never heard of Tudyk — plays the slightly unhinged Bobbi, Wray's promiscuous would-be manager who wears a different wig in every episode.
G/O Media may get a commission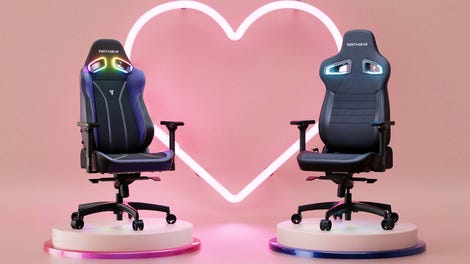 Up to $150 off
Vertagear Gaming Chairs
The fact that Con Man is a passion project was on full display at the panel, with everyone agreeing to do the crowdsourced project because they just wanted to be there. Parts grew out of things people brought to them, from Trucco's improving nearly shooting Fillion's character to Milo Ventimiglia riding the motorcycle he arrived to the set on.
Not only a passion project for those in the cast and crew, but for the fans who pledged 3,2 million on Indiegogo. Originally slated for three ten-minute episodes, with the rest of the stories they had in mind maybe being a book, the money allowed the show to be 12 episodes long. The money was stretched to cover scenes in from the fictional show within a show Spectrum and renting out a real convention center for the con scenes. "It's [all] in storage, we didn't just burn it," said Tudyk, hoping that there will be more seasons.
Tudyk said that he tried to get it made on TV and got rejected, and now can't see partnering with anyone that rejected the show the first time around. He even got dropped by his agent when he took a pilot season off to make Con Man. That's how much he believed in this.
Felicia Day gave possibly the best endorsement possible, saying it could "Blow up the world the way Doctor Horrible did."
---
Contact the author at katharine@io9.com.