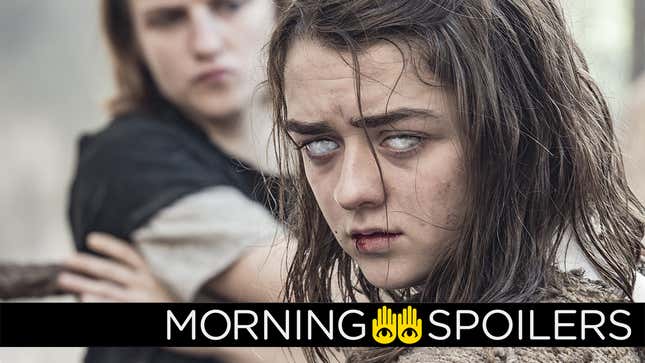 James Cameron talks Avatar 2. Alita: Battle Angel has cast its villain. ABC and Disney are still optimistic about a live-action Star Wars TV show. Plus a new look at another creepy story for Channel Zero, and new footage from the returns of Supernatural and Gotham. Spoilers Now!

The Boogeyman's Sophie Thatcher Reveals What Draws Her to Dark Characters | io9 Interview

Alita: Battle Angel
Jackie Earle Haley has joined the cast in unspecified role—but one that's described as being the villain of the film, " a monstrous cyborg" requiring heavy CG and greenscreen work. [THR]
---
Harley Quinn
Margot Robbie will executively produce the spinoff, as well as star. [THR]
---
Avatar 2
James Cameron talks about the film's rooting in the real world:
It's always a reflection of our world. It wouldn't have any relevance if it wasn't a refraction through a lens of fantasy or science fiction of the things that are going on in our world, whether it's the struggle if you look at this Standing Rock confrontation between Native Americans and the authorities that's going on right now, that's just an example of the kind of things that Avatar is about, metaphorically. It's going on throughout Central and South America. Indigenous people confronting big hydroelectric dam projects or confront oil companies, that sort of thing. It's the world we live in. It's also about our relationship with technology and how we're a much more urbanized society then we used to be. We're far, far down through the looking glass of our own technology now, and I think part of us is yearning for that reconnection to nature, and that's what the Avatar films will remind us of.
[Vulture]
---
Game of Thrones
Actor Joe Dempsie, who played Gendry, the bastard child of Robert Baratheon (and last seen sailing away from the clutches of Melisandre and Stannis in season three), has been spotted returning to Belfast, sparking rumors that the actor is in town to join production on Thrones' sixth season.
While it's just as likely Dempsie is in town for reasons other than Game of Thrones, the fact that he's joining many returning actors in their sojourn to Belfast at the moment after the show officially entered production again last week, it seems very likely that he could make an appearance. [Watchers on the Wall]
---
Star Wars TV show
Ben Sherwood, President of Disney-ABC Television Group, is optimistically hoping a live-action Star Wars show could be coming "in a galaxy not too far away" but errs on the side of not getting your hopes up too highly:
The live-action Star Wars plan rests in the hands of [Walt Disney Studios chairman] Alan Horn, [Lucasfilm president] Kathy Kennedy and the great folks at Lucasfilm. Somewhere we hope in a galaxy not too far away there will be a television show that will air on one of our networks. But I wouldn't get anybody's hopes up too high. They have a lot of movies to make between now and then. We are deep into a very productive relationship with Lucasfilm making [Disney XD's] Star Wars Rebels. And we are in ongoing conversations with them on what is the next Star Wars animated show.
[THR]
---
Deception

Chris Fedak is developing a magic-themed drama—stage magic, that is, not wizardry and/or witchcraft—produced by Greg Berlanti and Martin Gero. The serious follows a scandal-plagued magician who teams up with the FBI to become a "consulting illusionist."
[TV Line]
---
Channel Zero
Here's another promo for the series, this time based on the "Candle Cove" creepypasta Internet legend.
---
Supernatural
Another TV spot for the show's return has been released.
---
Frequency
As has one for this timey-wimey drama:
---
Gotham
Finally, it's the turn of Barbara Kean to get her own TV spot for the show's return.
---
Additional reporting by Gordon Jackson. Banner art by Jim Cooke.