Even though Tron Legacy wasn't the massive blockbuster hit Disney expected, it did make enough money to warrant Tron 3. So what happens next? While at WonderCon promoting their television show Once Upon A Time, Tron Legacy scribes Edward Kitsis and Adam Horowitz dropped a few hints for Tron 3.
Spoilers ahead...
From the Once Upon A Time roundtables:
After the experience of working on Tron: Legacy, it seems like the movie did well, and made money. But maybe it didn't quite do well enough to get its own sequel. But it did well enough to get its own cartoon series, is that frustrating at all?
Adam Horowitz: We are working on a sequel. Eddie and I aren't writing the sequel — because of the show [Once Upon a Time] we've moved to be co-producers on it. But there's a script being written right now.
Edward Kitsis: Dave DiGilio is writing it. Joe [Kosinski] is right now shooting Oblivion but we've had a lot of meetings and conversations and we've sen the first draft of the Tron sequel, sometimes movies don't happen as quickly as you want... Our hope is to get something going sooner [rather than later].
G/O Media may get a commission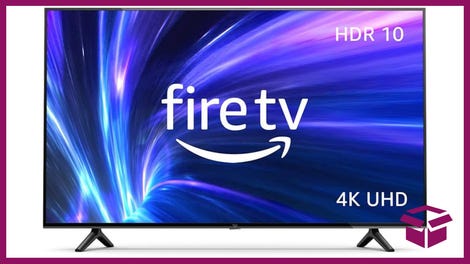 42% Off
Amazon Fire TV 50" 4K Smart TV
In your opinion are Tron and Jeff Bridges dead, are they in Tron [3]?
Horowitz: I would say the definition of life and death in the digital realm...
Kitsis: Will be explored in the sequel!
How big of a part does Quorra have in the sequel?
Horrowitz: Mmm. *Darts away to the next roundtable*