You can vote with your dollars this week to get a slew of fun and worthy projects off the ground: a post-apocalyptic road comedy about two best friends, Sparkplug found Dylan Williams' final print projects, an all-ages comic about heroic bunny rabbits, a project to digitize the books history forgot, a graphic textbooks, a mission to send Star Trek captains to space (at least their action figures), and the latest scifi project from Jimmy Palmiotti and Justin Gray.
Best Friends Forever (an apocalyptic feature film): Brea Grant is both an actress and a creator; she played the sprightly speedster Daphne on Heroes and co-created the zombie comic book We Will Bury You. Now she's directing and starring in her own feature film, the post-apocalyptic road trip comedy Best Friends Forever. There's less than two days left on this campaign, so if you want to pledge, you should do it now. For $25, you'll receive a DVD of the film when it's released.
The Cucumber Quest Book Project: Cucumber Quest is a delightful all-ages webcomic that pays tribute to high fantasy quest epics while skewering their conventions and plot holes. The first volume in print will show off all of the comic's lovely colors. For a $15 pledge, you'll receive a PDF of the book and seven character prints. For $25, you'll receive the softcover book and the PDF.
Sparkplug Books Publishing Fundraiser: When Sparkplug Comic Books founder Dylan Williams succumbed to cancer this past September, he was still working on three projects that have not yet appeared in print. One is the collection of Katie Skelly's comic Nurse Nurse, a scifi epic about nurses traveling the solar system. The others are issue nine of Elijah Brubaker's Reich, his ongoing biographical series about sexologist Wilhelm Reich and Olga Volozova's The Golem of Gabirol. For a $35 pledge, you'll receive all three books.
Retrovirus graphic novel By Jimmy Palmiotti & Justin Gray: Jimmy Palmiotti and Justin Gray have collaborated on a number of comics projects: Power Girl, Jonah Hex, Freedom Fighters, Monolith, The Tattered Man, and more. Now they're teaming up with artist Norberto Fernandez for a new graphic novel, Retrovirus:
When Zoe, a brilliant young scientist who specializes in identifying extinct viruses is offered a job away from the city at a remote research facility in Antarctica, she soon discovers her employer has unearthed a perfectly preserved Neanderthal. That is only one of the many dark secrets lurking at the facility as Zoe races against time to stop a global pandemic.
G/O Media may get a commission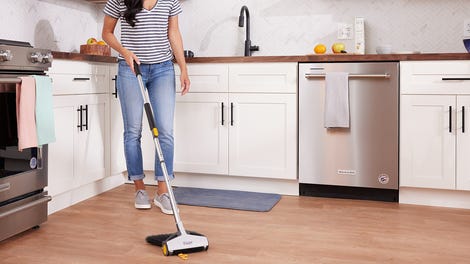 BOGO 50% Off
Flippr - BOGO 50% Off
For $5, you'll receive a PDF of the book the day before its release. For $30, you'll receive a signed copy of the book, plus a limited edition signed print.
~Archive: a Knowledge Tool by the Brooklyn Institute: Project Gutenberg and Google Books are doing a fine job of bringing old books online, but the Brooklyn Institute for Social Research wants to reach farther back in our cultural history, rescuing books whose last copies are crumbling, and are forgotten save a small reference in another book or essay. For a $10 pledge, you'll receive their first digitized ebook, a volume from before 1923; for $25, you'll additionally receive a second ebook, a post-1923 book of questionable copyright status (and yes, they're looking to do everything legally above board).
Send Captain Picard to Space: We love videos of people sending various objects into space via high-altitude balloons, and this one is especially fun. A crew of space enthusiasts are sending action figures of Captains Picard and Kirk to space with their respective toy Enterprises, with plans to film the whole thing. For just $1, you'll get a copy of the footage. For $40, you'll receive a communicator button sent into space with Captain Picard.
The Graphic Textbook: The non-profit Reading with Pictures promotes the use of comics in the classroom, and to that end, they're publishing The Graphic Textbook, a sequential art learning tool aimed at grades 3-6. The book will feature stories by Fred Van Lente, Katie Cook, Dean Trippe, Roger Langridge, Amy Reeder, and more about social studies, math, language arts, and science. For a $10 pledge, you'll receive a digital copy of the book. For $25, you'll receive the print volume.