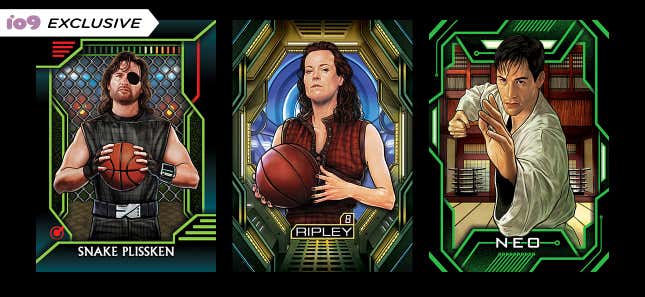 Two things that don't usually go together are science fiction and sports. There are exceptions, like Rollerball and Real Steel, but for the most part, you get sci-fi movies or you get sports movies. Rarely both.

What you do get more often than you realize is sports in sci-fi. Football in Starship Troopers. Skateboarding in Back to the Future. Scenes here and there of basketball and martial arts. Those last two are examples artist Cuyler Smith has latched onto for the latest, and maybe greatest, entries into his Trading Cards series, a long-running series of cards he's released through Gallery 1988 of characters from sports movies and TV shows.
Smith is about to release three new cards, all sci-fi-themed. There's Escape From LA and Alien Resurrection, featuring lead characters Snake and Ripley looking ready to shoot some hoops. Then he also took one of the most fun scenes in The Matrix, Neo learning kung fu, and turned it into a special lenticular card marking #250 in the series.
"I actually had this Neo card as part of my last show, but I wasn't able to establish the look and feel that I wanted," Smith told io9 via email. "When I started designing the other two cards that were science fiction themed, I knew I had to include Neo. I vividly remember seeing the film for the first time and how much the visuals had an impact on me. I've always wanted to do a transition from Neo to the One. Showcasing the code of The Matrix and adding the 3D depth to it just took it to a whole other level."
See io9's exclusive debut of that card, both as a JPEG and GIF, in the slideshow, as well as better looks at Snake and Ripley. All three go on sale Thursday, September 7 at Gallery1988.com. They cost $25 each with a limited number of matching sets for $75.
"I would like the thank Gallery 1988 for their continued support with my trading card series and to all of the fans and collectors that have helped this dream become a reality," Smith said. "I never imagined that I would create 250 cards and I look forward to continuing to grow and evolve the series in the future."
Oh, and as a bonus, we've gone back through the archives to pull a few of Smith's older sci-fi cards.