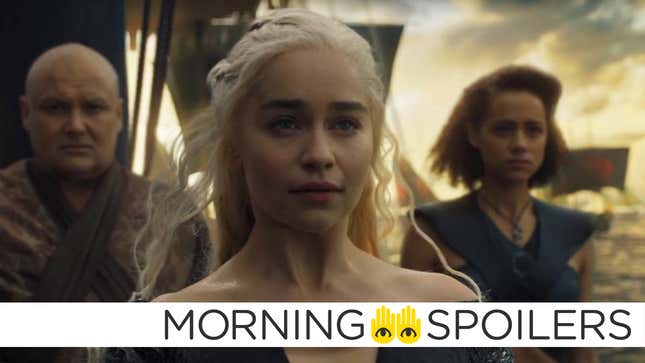 It might be a while before we learn the title for Episode VIII. More details about Star Trek: Discovery's protagonist have been revealed. Michael Cudlitz may have let slip a tiny part of The Walking Dead's big secret. Plus, Jerry O'Connell in Scream Queens, a new location for iZombie, and new stills from Rogue One. To me, my Spoilers!
Boogeyman Star Sophie Thatcher Wrote Howl's Moving Castle Fan Fiction | io9 Interview

Star Wars: Episode VIII
Daisy Ridley recently appeared on the (bizarrely named) My Dad Wrote a Porno podcast where she discussed the film's title:
I heard a title, but I don't know if it's going to be that. I really don't know much about anything. I heard the title a long time ago before we started filming, and so I feel some things have slightly tweaked during production. It's going to be a while before it's released I imagine.
For comparison, The Force Awakens' name was revealed when the film officially finished principal photography—something Episode VIII did last month. [Star Wars Underworld]
---
Fantastic Four 2
Kate Mara is the latest member of the cast to threaten the world with talk of a sequel (while actively mocking the original movie):
We would love to actually play these characters.
---
Rogue One: A Star Wars Story
New stills from Empire's cover story have been released. You can find more at the link.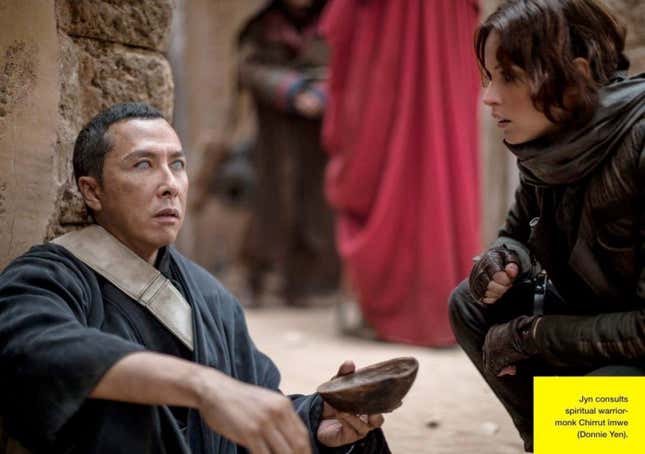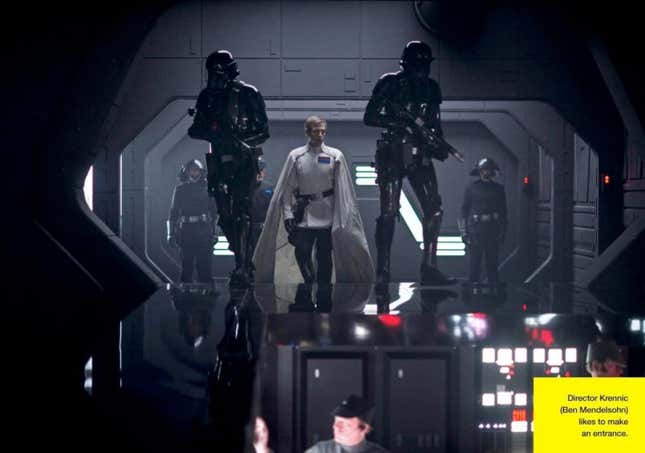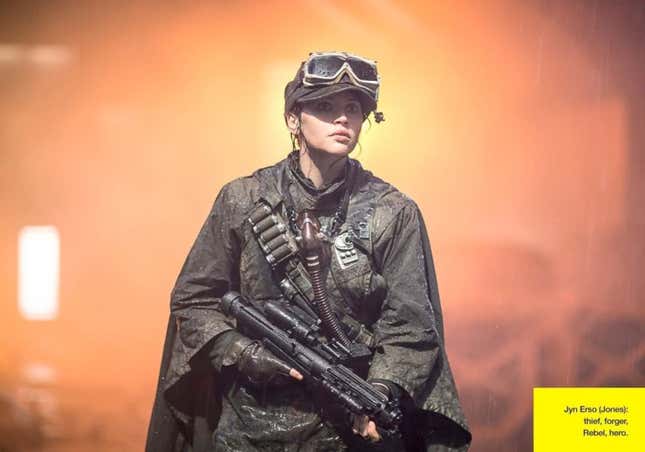 [/Film]
---
Game of Thrones
Sources speaking to Watchers on the Wall claim that scenes in the seventh season will feature Daenerys Targaryen at the Dragonpit. In the books, the Dragonpit was an area in King's Landing where the Targaryen rulers kept their dragons years before the events of the books, but it was ultimately destroyed, with nothing but ruins left.
The report doesn't confirm when in the season these scenes will take place, or even that the Dragonpit will remain at its 'canon' location in King's Landing, but if it does, Daeaerys' arrival in Westeros will be bringing her within a painstakingly close proximity of Cersei and the Iron Throne sooner than we thought.
Meanwhile, here's Maisie Williams discussing bringing the show to an end:
Good things must come to an end or they're not good anymore. It doesn't last forever and we've done what we came to do, it's time to wrap this up, and it will have the ending it was always supposed to have, and that's very special. David and Dan started writing this show knowing the end, not knowing that it might actually come around and we might be allowed to make that many [seasons] — at the beginning we were just willing to make one [season]. They started this with an end in sight, and so it's exciting to be closing it… I'm just excited to see everyone again – we start a lot later this year because winter has arrived, so that can't happen in sunny Belfast.

[Variety]
---
Star Trek: Discovery
Speaking to Aint It Cool News, Bryan Fuller says that the series' protagonist is the First Officer on a ship—she'll be known as 'Number One' initially:
When we introduce our protagonist, she is called 'Number One' in honor of Majel Barrett's character in the original pilot. And as we were first talking about the series, talking to CBS, we said initially we will only call this character Number One.
He also added that her actual name will be revealed during the season as well.
---
The Walking Dead
While speaking about Abraham's comic book death being given to Denise, Michael Cudlitz seemingly let slip that Abraham will not be the victim of Negan's bat-happy bludgeoning:
[Denise's] death spurs on a whole bunch of other stuff, and then the audience knows that Abraham will continue for a while now. Now we get to see what a world with Negan and Abraham both in it will be like. That's something we don't see in the graphic novels. So a lot of cool stuff happens. For me, knowing that his potential death had come and gone, it was a moment to go, 'Oh cool, they really aren't going to stick with what the graphic novel does.' As a fan of both the novel and the show, it was cool.
Unless, of course, it's another red herring in the ongoing Negan Victim mystery scenario. [Pop Sugar]
---
The Ark
Robert Zemekis is developing a scifi drama based on Noah's Ark, set in space, at NBC. [Deadline]
---
Once Upon a Time
Faran Tahir has joined the cast as Captain Nemo. His take on Nemo is described as "a zealous believer in a cause that takes him from 20,000 leagues under the sea to the destiny that he won't let anyone prevent him from achieving." [EW]
---
The Flash
Aaron Helbing says that new big bad Savitar's plans will be a bit different from those of the Reverse Flash and Zoom:
[Season 3] is more about psychological warfare. Everything about [Savitar] is different than Zoom or Reverse-Flash. I can't go into too much detail, but he's quite a bit different.
[TV Line]
---
Gotham
David Mazouz talks about getting to play Bruce Wayne's doppelganger in the next season:
Everything else about them, they think differently, they talk differently, they walk differently, they communicate differently. He's pretty weird, the other guy... I played both roles against myself more than once, and it was weird, really weird. You'll see!
---
iZombie
Entertainment Weekly has revealed concept art of The Scratching Post, a speakeasy for zombies that will feature prominently in season three.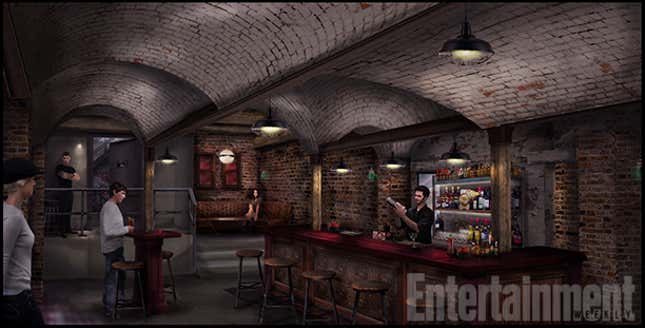 ---
Scream Queens
Finally, here's a first look at Jerry O'Connell's character in the show. No name or details yet, other than the fact he's connected to the hospital the second season is centered around. [TV Line]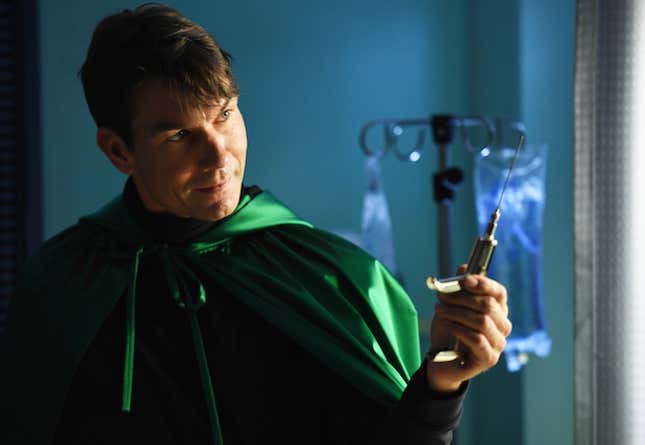 ---
Additional reporting by Gordon Jackson. Banner art by Jim Cooke.