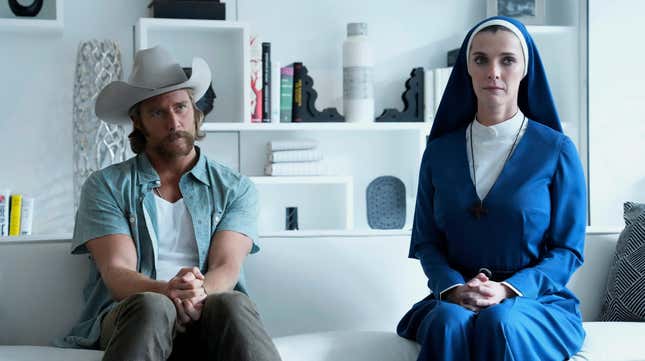 Watchmen and The Leftovers were two of our favorite series in recent years, and now creator (and future Star Wars director) Damon Lindelof's new show is nearly upon us. Mrs. Davis stars Betty Gilpin (GLOW, The Hunt) as a nun who sets out to destroy the title character—described as "the world's most powerful AI." The first teaser is here, and the off-kilter tone makes us even more excited to see the show.
She wants to talk to you... about what, though? And why? Peacock released a wonderfully unhinged press release in the form of a faux-folksy "letter" from the mysterious Mrs. Davis:
Hey there, Partner.

Do you mind if I call you partner? Of course you don't — because addressing you as such creates a bond of reliance – while also engendering trust between us and eradicating any sense of independence on your part because independence is bad. Independence is LONELY.


And you, partner – are not alone. No siree. Not as long as I am here...


And who am I? Well, I am the one who is going to remind you of your value. Of your worth. While also mentioning that you look mighty fine in those jeans. Aww. That's nice to hear, right? Of course it is. Which is why I have amassed billions of Users the world over. Because I provide validation, gentle guidance, and unconditional care. Not to mention I give Users – I mean partners – the chance to earn Wings by performing Quests!


What are Wings exactly? Well, you're going to have to become a User to find out! But, let me tell you – they are pretty great. Because I am pretty great. Though, not everyone would agree. Yes, despite being the most popular Algorithm in the world – there are those actively plotting my demise. One such detractor is a nun – a Sister Simone of Reno who rejects my very existence. Something about my intention to enslave all of humanity...or whatever...


Which is utter nonsense — as I desire no such thing. I only desire to make humans happy. I want to make YOU happy. And that is why I highly recommend you become a User yourself. Yes, your life could use some adventure, some escape – a hearty laugh and a cathartic cry. All of which you will experience if you join me on this Quest. And what do you have to lose?


Do it. Do it. Dooooo it.


Your partner,


Mrs. Davis

Yep, there's definitely some sinister messaging lurking below all that touchy-feely sap. The cast for this one includes not just Gilpin as "Sister Simone of Reno," but also Jake McDorman (a Watchmen alum who also starred in the underrated Limitless series, and pops up occasionally as Nadja's hapless ex-lover Jeff on What We Do in the Shadows), who plays Simone's "rebellious ex who also has a personal vendetta against the Algorithm," and Station Eleven's Andy McQueen. The recurring cast is also excellent: Ben Chaplin, Margo Martindale, David Arquette, Elizabeth Marvel, Katja Herbers, Chris Diamantopoulos, Ashley Romans, Tom Wlaschiha, and Mathilde Ollivier.
The showrunner for Mrs. Davis is Tara Hernandez (The Big Bang Theory, Young Sheldon); Hernandez and Lindelof are executive producers and co-writers. The behind-the-camera talent also includes executive producers and directors Owen Harris (Black Mirror: San Junipero) and Alethea Jones (Evil). 
Mrs. Davis will run for eight hour-long episodes, and arrives April 20 on Peacock.

---
Want more io9 news? Check out when to expect the latest Marvel, Star Wars, and Star Trek releases, what's next for the DC Universe on film and TV, and everything you need to know about the future of Doctor Who.