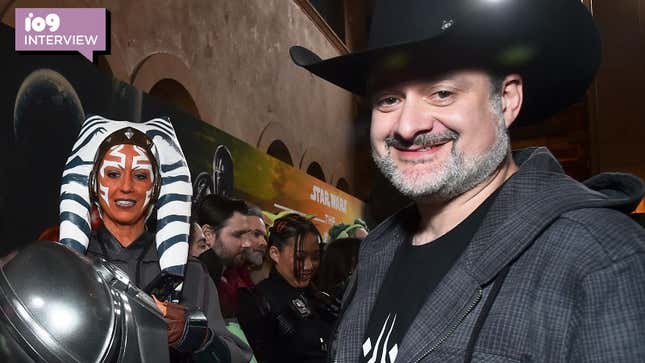 For years, Dave Filoni was the Star Wars animation guy. He worked side by side with George Lucas on Star Wars: The Clone Wars. That was followed by the first new Star Wars project released by Disney, Star Wars Rebels. He's also produced both Star Wars Resistance and Star Wars: The Bad Batch. But with the birth of Disney+, Lucas' protégé began trying other things; later this year, he's going to have his first full, live-action show, Ahsoka, which is very likely to continue the story teased at the end of Rebels.
The Rings of Power | First Fandoms
When Rebels was released, Filoni was predictably coy about what was next. He'd left a huge piece of story dangling at the end of Rebels and wouldn't say when, or if, he'd ever pick it back up. [To briefly recap, Jedi Ezra Bridger and Grand Admiral Thrawn disappeared with space whales and Ahsoka Tano and Sabine Wren teamed up to look for them. You can watch the video embedded below.] But as it's now looking more and more likely that he'll be doing exactly that with Ahsoka, and in live-action no less, we asked if he could tell us now, was that the plan all along? Did he know that Star Wars Rebels would continue but in live-action?
"That's an interesting question," Filoni replied to io9. "I would say that, you know, because of working with George, I saw a possibility of working in live action where I'd never seen it before. I didn't know if that was something for me. But after working with him for so long and the way he taught me and then Kathy [Kennedy] coming into the company, one of the first things she and I talked about was, 'Is there potential for me to get exposure to live-action and what does that look like?' And so, of course, that was right when we began producing Rebels. The most important job I had at the beginning of this whole transition of Lucasfilm and Disney was to get that show up and running and to make sure that's a strong title for us coming out of the gate. But, you know, as I was watching J.J. [Abrams] and Rian [Johnson] and Gareth [Edwards] and all these different people coming in and exploring live-action, I was able, thanks to Kathy, to get exposure to that type of production and what that's like. And so it was incredibly exciting and interesting."

"I mean, I love animation," Filoni continued. "I love what I do there, but I think creatively as an artist, you have to be constantly pushing yourself into new ways of telling your story or expressing yourself through [different] mediums. And it became something that I was interested in. I just had no idea if I'd be good at it. It's different."
Where Filoni found a happy medium between live-action and animation, a place where he could use the skills of one to get better at the other, was on a show that didn't exist when Kennedy first took over Lucasfilm: The Mandalorian, created by Jon Favreau. "There are similarities in the production pipeline Jon was working with," Filoni said. "Thanks to his work on Lion King and Jungle Book, there was a lot of crossover with what he was developing in animation. And so for me, it was a little more of a natural fit where I could get confident with an incredibly talented crew."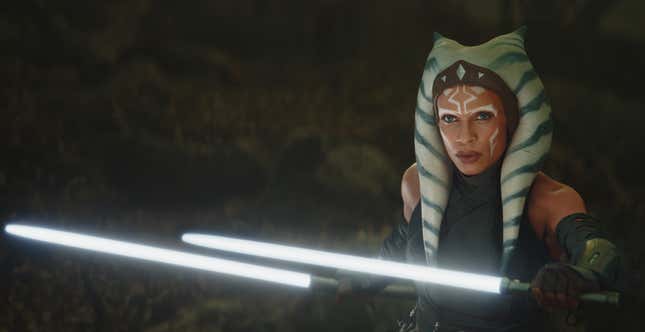 Still, in all of that reflection, Filoni had yet to answer our question. Did he ever consider that he'd get to continue the story of Rebels in live-action as opposed to animation? "At the time that I did the epilogue in Rebels, I had an idea of what this story would be. And it was definitely... so all of that, to just answer the question, I would say 'Yes.' It was definitely an option in my mind that, wow, this could be live-action if I go forward with this."
"But there were a lot of things in that 'if,'" he continued. "Which was can I tell the story as well? What does that look like? What's the budget like? Who's going to play these characters? There are so many unknowns. But it was definitely on the table as well as just continuing in animation."
So why live-action over animation? And can he confirm that Ahsoka is 100% a continuation of Rebels since we know for a fact that Ahsoka is in it, Sabine is in it, and Ahsoka is looking for Thrawn? "You have to decide what's best for the story," Filoni said. "And I think, we found, you know, whatever my story is about [in] Ahsoka, I'm very pleased." So no, he won't 100% confirm it. But we all know.
"And, you know, I didn't know Jon would be doing Mandalorian at the time when I did that epilogue," Filoni added. "That was all in motion, but I didn't understand Ahsoka's role in it, certainly. But I do know this time period because I grew up with a lot of Expanded Universe material in it. And so I think that's also been an influence on what the future holds for everyone existing post-Return of the Jedi."
The Mandalorian season three is now on Disney+. Ahsoka is expected to be released later this year.
---
Want more io9 news? Check out when to expect the latest Marvel, Star Wars, and Star Trek releases, what's next for the DC Universe on film and TV, and everything you need to know about the future of Doctor Who.