Making a live-action remake of a beloved animated classic—a remake that nobody asked for—is a tough position to be in. You have to win over fans of the original, but also convert a whole new audience. For Jungle Book director Jon Favreau, the key to that challenge was capturing the right feeling.
"You're not remaking the real movie," Favreau explained to io9. "You're remaking the memory of the movie. Most people have contextualized the movie based on how old they were and what they remember now. And in that regard, it's very, very difficult to compete with that."
It's true. When you think about Disney's The Jungle Book, what do you think of? The characters, the songs, maybe an image or two—but that's probably it. So when he first approached the film, Favreau started with those feelings.

"When I first set out to make this film, I would list the images that I remember most clearly [from the original film]," he said. "I remembered certain songs, I remembered Kaa hypnotizing Mowgli, I remember floating down the river, singing. The memories that sat most clearly in my consciousness were the ones I tried to maintain."
G/O Media may get a commission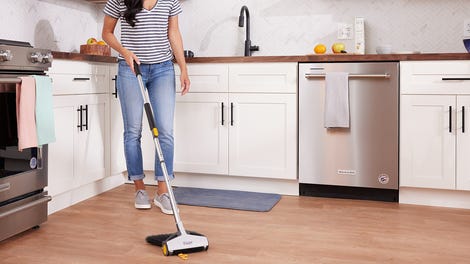 BOGO 50% Off
Flippr - BOGO 50% Off
This new Jungle Book opens April 15. It features an incredibly robust list of voice talent (Bill Murray, Ben Kingsley, Idris Elba, Lupita Nyong'o, Scarlett Johansson, Christopher Walken) and was shot entirely on sound stages in downtown Los Angeles. Almost everything in the movie, except for star Neel Sethi, is computer generated.
That level of technical ambition was just one of the headaches for Favreau, who also directed the first two Iron Man movies. He also wanted to find a story that blended the 1967 Disney animated film with Rudyard Kipling's original writings. Everything had to gel to make the best possible version of this story. So, for example, the animated version starts with some exposition to explain how Mowgli got in the jungle. Favreau changed that.
"Exposition works best when the audience is yearning for it," he said. "When Luke Skywalker busts out the lightsaber and hears about his dad in the Clone Wars, I could have sat through half an hour of that exposition. But if you start a movie with exposition, it sometimes feels like homework you have to sit through. And so I held back on Mowgli's origin story."
On the other hand, Favreau stuck to the animated movie in regards to the character of Baloo.
"When Disney first talked to me, it was following the Kipling where [Baloo] was a character that [Mowgli] knew from the beginning," Favreau said. "But I followed what was in the original movie, [when Mowgli meets him later]. I sort of hand picked between the two."
Much of that picking and choosing came about during The Jungle Book's long, story-focused preproduction process. Unlike most live-action movies, Favreau developed The Jungle Book in the exact same way Pixar and Disney Animation do their films: by hiring a group of people to work on the story, and plotting out the film, in animatics and storyboards, dozens and dozens of times before even touching a camera. This is a process that all but assures your movie works, at least on some level.
"You don't always have this opportunity—to get Disney to commit to the resources to have a very robust pre-production," he said. "[Most times studios] hold back until the greenlight hits, and open the floodgates. It allowed me make the storytelling mistakes before you ever start rolling."
Favreau explained most live-action films that don't go through this process, and therefore don't recognize their own story and logic mistakes until the editing process. But, on an animated film, or a heavy-CG movie like The Jungle Book, that's not something you can afford to do.
"It too expensive to throw scenes on the floor," he said. "You have to make those mistakes before you start. And I think that that level of focus and that level of precision in storytelling is something that live-action could, and would, benefit from."
Another major decision made in that process was how to incorporate music into this version of The Jungle Book. Audiences obviously love songs like The Bear Necessities and I Wanna Be Like You but Favreau knew, with his realistic aesthetic, seeing animals sing could take people out of the movie. So he tried to find a way to work the songs in as organically as possible while not disappointing fans. It was a delicate balance.
"I felt that if I held back it would be disappointing, so you kind of lean into it," he said. "You're in a damned-if-you-do, damned-if-you-don't situation, and I tried to do the best version. The one that made me smile and made me laugh."
When struggling with those scenes, Favreau approached his friend, who also provides a voice in the film, Garry Shandling. Shandling recently passed away, and Favreau told us about how the last time he saw Shandling helped the film immensely.
"[Shandling] has been a mentor for scores of filmmakers," he said. "The last time I saw him, I showed him the [I Wanna Be Like You] sequence to bounce it off of him. And it made him smile. The first thing I asked was, 'Does it work? Does it fit?' And he was very encouraging. I think he was a bit overwhelmed by the whole visual of the whole thing. It's like nothing we ever worked on together or he had ever worked on….But to have him be there and to give confidence and inspiration to the people that he worked with, it made me feel comfortable with what I had done."
"George Lucas would always say, 'If you try to go for kids that are under seven years old, you're going to lose the adults,'" Favreau added. "I have kids that are [aged from] fourteen now to nine, and I tried to find the tone that would work for all of them. Because going too young, you lose the older ones. And by going too old, you lose the younger ones. I used my dad-instincts."