The built-in speakers on gadgets are nearly always garbage, and tablets and laptops are the worst of the worst. No one uses the built-in crap if they can avoid it, but portable speakers are either inconvenient or terrible, and so most of us are banished to a life of headphones. Well the new Bluetooth Sound Cylinder from Definitive Technology is the most elegant portable sound system we've ever used.
Definitive Technology is one of those audio brands that's known for colossally expensive gear that only the most exacting nerds with plenty of cash would ever buy. And then, out of nowhere, the company's engineers pop out a mobile accessory. Don't you love it when that happens? We do, especially when it's so well designed and lovely sounding.
Carrying from Definitive Technology's expertise in home theaters sound, the Sound Cylinder is like an awesome little sound bar for your tablet or laptop. Simply slide the gadget into the little groove which the company says will fit any tablet and many laptops. It fit perfectly on an iPad and my 13-inch MacBook Pro. From there, you can use the Sound Cylinder as a stand on the bottom, or if you're holding the tablet, have it sit on top. Similarly, if you've got your laptop open, just slide it on to the top of its screen. There's even a little whole so it doesn't block your computer's camera.
Indeed, the aluminum and magnesium design is pretty slick, but what really blew me away from listening to the little package for a few minutes in the office was how good it sounds. Forget everything you think you know about small Bluetooth speaker systems, the Sound Cylinder proves that smart engineering can make tiny speakers sound great. It's the first time we've heard something so small deliver such clear sound across frequencies. The little tube projected beautifully so that at a moderate volume it was clearly audible at 20 yards away.
G/O Media may get a commission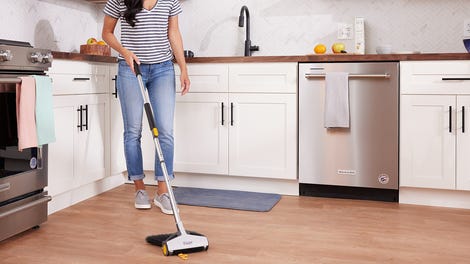 BOGO 50% Off
Flippr - BOGO 50% Off
The Sound Cylinder is a 2.1 system with two 32mm mid/high-range drivers and a 43-mm side-firing woofer. That sub's a little larger than what you usually see on portable Bluetooth speakers, which likely contributes to the baby bar's great sound. Oh, and the USB-rechargeable battery is supposedly good for a 10-hours, which is totally respectable.
We're not ready to wholly endorse the Sound Cylinder until we give it a proper listen, but it could well be the best wireless speaker you can buy for $200. It'll be available in February. [Definitive Technology]