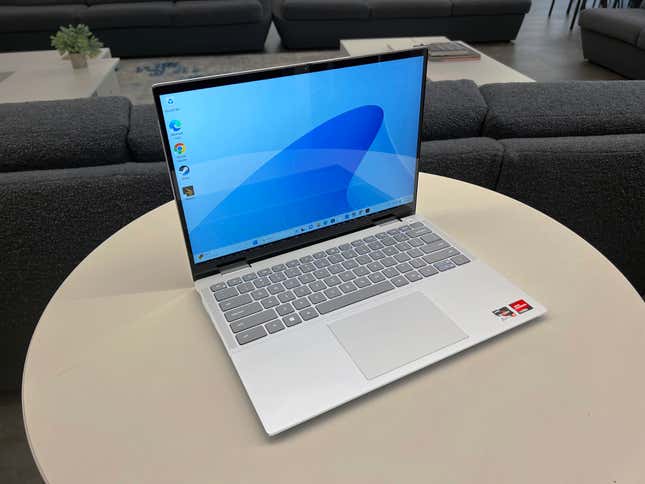 A budget laptop has to walk a very fine line. Cut too many features, and it's going to offer disappointing performance and be annoying to use, no matter how low the price. Get too ambitious, and feature creep will drive the price up so much that it's not a budget laptop at all anymore.
Meet Microsoft's New Surface Laptops
So while it's missing a few of my preferred features and components, I walked away mostly impressed with this $750 version of the Dell Inspiron 14 2-in-1 I tested as part of Gizmodo's Back-to-School guide.
Read more: Gizmodo Back to School Tech Guide 2023
While I often say the best all-around laptop for students, entrepreneurs, or just general everyday computer users is Apple's highly versatile MacBook Air, at $1,100 and up for the current models, it's no small investment. The new 15-inch version is even more, starting at $1,300.
Read more: Apple MacBook Air 15-inch Review: A Bigger Screen for a Better View
The Inspiron 14 2-in-1 splits the difference between those two screen sizes, coming in at 14 inches, which is my favorite screen size for something that needs to work as a full-time desktop computer while still being mostly portable.
On top of that, this is what Dell and some other PC makers call a 2-in-1 laptop, but some other people call a hybrid or convertible laptop. That means it can change its shape between clamshell laptop and tablet modes, allowing you to get away with using one device for multiple use cases.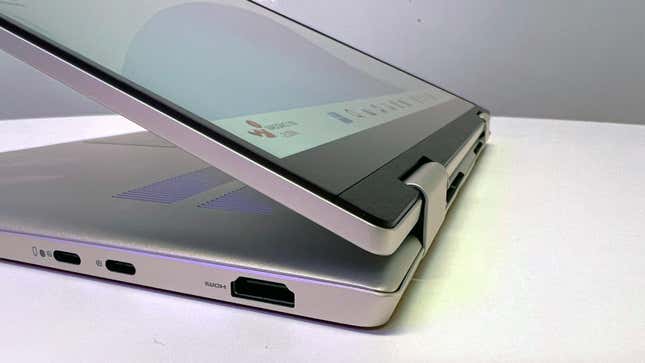 Some hybrid computers consist of a standalone slate screen with a clip-on keyboard – the Microsoft Surface Pro is a prime example of that. Others, like this Inspiron and Lenovo's Yoga line, are traditional clamshell laptops with 360-degree hinges that allow the screen to fold all the way back, forming a chunky tablet with a deactivated keyboard on the back side.
Everyone has their preferences, but I generally like this style better of the hybrid/2-in-1 options because it does the least to compromise the traditional laptop shape and functionality. And as someone who has been testing and reviewing hybrid PCs since at least the Windows 8 days, I can safely say that these types of devices are primarily used as laptops, and only occasionally used as tablets, so you want something that works really well as a laptop.
Price and configuration
With a hybrid design, touchscreen, fingerprint reader, full HD webcam and backlit keyboard, how is this laptop only $750? (And that's already down from $800 when I started writing this review.) The answer is the AMD Ryzen 5 7530U CPU that powers the machine, instead of a more common, and usually more expensive Intel processor. At these lower price levels, the performance difference between this and a similar Intel Core i5, like the Intel Core i5 1335U, isn't tremendous, but the Intel version will have more processor cores and supports Thunderbolt.
Inspirons from Dell are generally highly configurable, and this model is no exception. But in our case, we're working with a plus – a big 512GB SSD; and a minus – just 8GB of RAM.
Display and design
Despite being an overall bargain considering what you get, the 14-inch display, with a 1,920x1,200 resolution, is a weak spot. It's fine for everyday viewing, but on the dim side, with poor off-axis viewing. For $1,000, I'd expect a lot better. For under $800, it gets a pass, but just barely. There's an HDMI port for output to an external display, but note it'll only push a 1080p signal.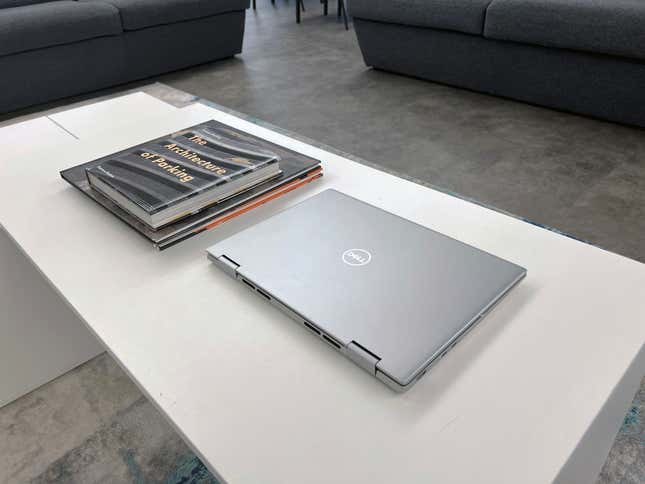 The island-style keyboard is backlit, with full-size keys and especially large keys for Shift, Tab, Caps Lock and other control keys. The directional arrows get a bit of a funky treatment, with full-size left and right arrows and half-height up and down arrows. Basically, it's going to take a little time to develop the muscle memory to get used to the keyboard. It also has a little flex in the middle if you press too hard, which is common in budget laptops.
Performance and battery life
With this combination of AMD Ryzen R5 and just 8GB of RAM with which to run Windows 11, don't expect great performance. Fortunately, for the budget buyer and student audience this system is intended for, basic productivity work, web surfing, video streaming, and note-taking all work just fine. The system even wakes from sleep quickly, which isn't something I can say about many Windows laptops.
In our mainstream laptop benchmarks, the system scored as expected (higher scores are better), although on the low side for our not-very-challenging 3D Mark test. If you're interested in gaming on here, consider a cloud-based service like Nvidia's GeForce Now, which operated independently of the local hardware.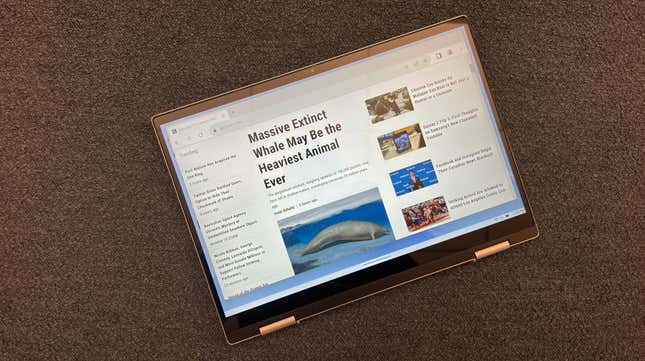 The big body should house a hefty battery, but there's just a 54Wh battery here. Despite that, the system ran for about 12 hours during normal use, thanks in part to the efficiency of the current Ryzen platforms from AMD.
The bottom line is that you can get a slimmer, more design-friendly laptop in this price range, yet probably not one with this many features plus a decent screen size for all-day use. There are some compromises in the design and performance, and if you're willing to drop a few hundred dollars more, the options expand greatly. It's not an especially fancy looking or feeling machine, but it covers a lot of ground for a very reasonable price.
Gizmodo's Back to School guide offers advice on the tech students need for school, from budget laptop reviews to why you'll need a VPN in college.