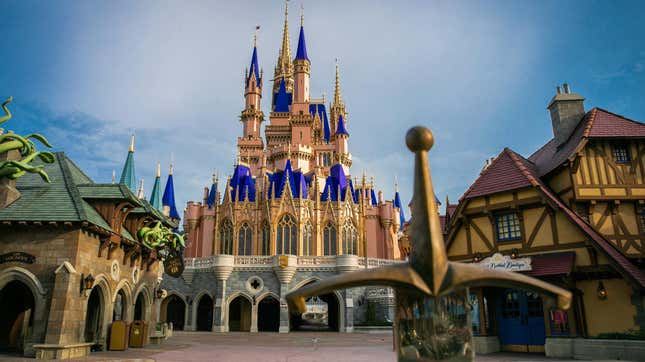 Florida Governor Ron DeSantis continues to fumble his presidential bid over unconstitutional squabbles with the Walt Disney World Resort that undermine his own political agenda.
We Rode the New Disney Coaster Guardians of the Galaxy Cosmic Rewind
This week, the Walt Disney Company made a move to get the court to rule that DeSantis' plans for the Reedy Creek Oversight Board were "enacted in retaliation for Disney's political speech in violation of the First Amendment" in a lawsuit filed against the Florida board's "relentless campaign to weaponize government power."
Disney v DeSantis Lawsuit by GMG Editorial
What started Disney's issues with Ron DeSantis?
Back in March 2022, former Disney CEO Bob Chapek apologized for not doing enough to counter HB 1557 —aka Florida's "Don't Say Gay" bill—which outlaws and censors sexual orientation and gender identity discussions from schools. Around that time, Disney Imagineering was set to open a new campus in Orlando's Lake Nona and relocate a significant number of employees to Florida from states like California. Employees who identified as members of (and allies of) the LGBTQIA+ community expressed discomfort in their then-boss' delay in taking action, as well as the idea of moving their families to a state that's continuously stripping away protected rights.
From their open letter:
The recent statements by The Walt Disney Company (TWDC) leadership regarding the Florida legislature's recent "Don't Say Gay" bill have utterly failed to match the magnitude of the threat to LGBTQIA+ safety represented by this legislation. Primarily, those statements have indicated that leadership still does not truly understand the impact this legislation is having not only on Cast Members in the state of Florida, but on all members of the LGBTQIA+ community in the company and beyond.
Later, the Walt Disney Company released a statement against the transgressive bill that read, "Our goal as a company is for this law to be repealed by the legislature or struck down in the courts, and we remain committed to supporting the national and state organizations working to achieve that. We are dedicated to standing up for the rights and safety of LGBTQ+ members of the Disney family, as well as the LGBTQ+ community in Florida and across the country." DeSantis' reaction was to turn on Disney Parks—which commands a huge portion of the state's tourism-driven economy.
How did Florida respond to Disney?
In a mustache-twirling villain move, the governor immediately set to work undoing the state's long, lucrative relationship with Disney by removing its control over the Reedy Creek Improvement District—the 27 square miles of land that Disney Parks occupies. Through this special district control, Disney was able to act as an independent entity without having to go through the state for approvals on things like expansions, all while still paying the high property taxes in Orange and Osceola counties. These taxes would not have been sustainable if Disney had not taken care of them since the park's opening, which is why the move was seen initially as a strike against the state's economic landscape and central Florida residents.
"I think that all of these board members very much would like to see the type of entertainment that all families can appreciate," DeSantis shared when he created the Central Florida Tourism Oversight District—overseen by a board whose members were appointed by DeSantis—to tamper municipal contracts and approvals on the 25,000 acres of land. The board is not supposed to have any sort of influence on creative decisions, as DeSantis hoped when he implemented the legislation; the district's debt obligations are to still be paid by the Disney Company.
What happens with Disney's lawsuit now?
The governor's remarks have publicly given credence to his retaliation being less about reducing the corporation's stronghold on the state, and more about his contempt for their stance against his continuous stripping of human rights through HB 1557 and banning critical race theory. The lawsuit names DeSantis and his board's actions as "patently retaliatory, patently anti-business, and patently unconstitutional" for attacking protected speech.

In February, Walt Disney World Resort president Jeff Vahle released a statement saying that even after the changes with the Reedy Creek Improvement District, the company would be ready to work within its framework to "continue to innovate, inspire and bring joy to the millions of guests who come to Florida to visit Walt Disney World each year." In March, it was revealed that Disney had "pushed through changes to the special tax district agreement that limit the board's action for decades basic land use agreements," according to Reuters, ahead of the board taking control. When DeSantis' board protested, the company released a statement that "all agreements signed between Disney and the District were appropriate, and were discussed and approved in open, noticed public forums in compliance with Florida's Government in the Sunshine law."
The board's agenda under DeSantis is just fully on display, which has made the case for Disney's right to sue over the First Amendment violation. In the lawsuit Disney claims the company "finds itself in this regrettable position because it expressed a viewpoint the Governor and his allies did not like. Disney wishes that things could have been resolved a different way. But Disney also knows that it is fortunate to have the resources to take a stand against the State's retaliation—a stand smaller businesses and individuals might not be able to take when the State comes after them for expressing their own views. In America, the government cannot punish you for speaking your mind."
So DeSantis can continue to tell on himself, while both parties see who holds up in a court of law, and onlookers have to wonder how, in 2023, we find ourselves hoping a massive, overly powerful corporation can oppose one of the country's most right-wing governors hoping he's on the path to a presidential nomination next year.
---
Want more io9 news? Check out when to expect the latest Marvel, Star Wars, and Star Trek releases, what's next for the DC Universe on film and TV, and everything you need to know about the future of Doctor Who.