Tonight, an LG press release officially unveiling the curved screen G Flex smartphone briefly appeared online. It's gone now, but before it disappeared it gave us a new look into this strangely-shaped bananaphone.
First and foremost is that screen, six inches of 720p OLED curved along a horizontal axis (unlike the Samsung Galaxy Round's vertically-oriented curve). The company claims the curved shape increases call sound quality and boosts volume by 3db. Behind that is a quad-core 2.26Ghz Snapdragon 800 processor, 13 megapixel camera and 2GB of RAM — identical to the LG G2. What we hadn't heard of is the "self-healing" back cover, which the company says sheds scratches within minutes. LG says the G Flex is coming to South Korea next month, but still no word on an international release.
Update: Engadget has an official English-language press release that confirms the details from the (still broken) Korean announcement.
G/O Media may get a commission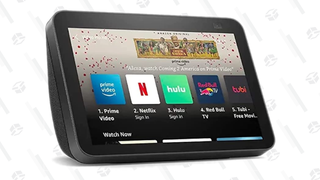 [Engadget, LG Newswire via The Verge]