When President Trump was elected, many wondered what would happen with Walt Disney World's Hall of Presidents attraction in Florida. Back in May, Motherboard reported that the new robo-Trump would break tradition and might not speak at all. But Disney announced yesterday that President Trump will indeed speak when the attraction reopens.

"The same thing that we've done with other presidents, is the same plan we have for President Trump," said Jacquee Wahler, vice president of communications, according to local TV station News 13.
When asked to clarify, Wahler explained that Trump would speak, just like other modern presidents who've been added like Barack Obama and George W. Bush.
The Hall of Presidents has been closed since January, as is customary when a new president is sworn in. But there's been a delay in getting the ride reopened, leading many to wonder if Disney is struggling with how to depict a president who's not exactly presidential in his tone.
G/O Media may get a commission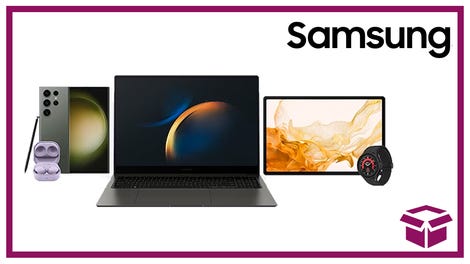 24 hour deals
Discover Samsung - Daily Deal
The Hall of Presidents in a sit-down attraction featuring animatronic robot presidents, all saying some of their most famous phrases. So, naturally, it seems like a monumental task to come up with something that Trump has said that's suitable for a family audience. "Build the wall" or "lock her up" or "grab them by the pussy" don't feel quite right for the Magic Kingdom.
The attraction was originally slated to be closed from just January 17th until June 29th, but Disney now says that it won't re-open until "late 2017." Typically Disney likes to have as many rides open as possible during the summer, one of Disney World's busiest seasons, which has further fueled speculation about what could be holding everything up.
Another possible reason for the delay is that President Trump has reportedly not been very helpful to Disney. In 2009, Imagineers traveled to Washington, DC so that President Obama could record his lines when he was added to the ride. Trump has reportedly not scheduled a similar session.
But again, who knows? Even if Trump were to lend his voice to the ride, it's difficult to choose what kind of inspiring all-American slogans would fit. A president that just chants "Make America Great Again" for half an hour seems like it might get old. But, then again, his supporters never seem to tire of it at his rallies.
I mean, just take a look at his most recent tweets from this morning. They're not exactly something you'd want to memorialize in a theme park ride about the greatness of the American Dream.
Is Disney's robo-Trump going to just rant and rave about Democrats and the CIA and Hillary Clinton?
Who knows? Again, it's bizarre to imagine that we're even in this situation. The words "President Trump" seem ridiculous enough. For anyone who grew up watching the Hall of Presidents, like I did, it's really hard to imagine that a clown like Trump is getting added at all.
Update, 3:02pm: Motherboard has a source inside Disney who claims that the hold-up is 100 percent on Trump's team. Previously the president's team and Disney have worked collaboratively on writing the speech for the robo-president. Apparently Trump's team has insisted on writing the entire speech themselves.
"The Imagineers [the researchers and developers behind Disney's theme park attractions] tried to point out that they're typically involved with this process," continued the source. "That they directly collaborated with Clinton, Bush, and Obama's people when it came to figuring out what the President's Audio-Animatronic figure would say. Trump's people said, 'No. We're writing this speech. You guys have no input on this.'"
And on top of all that, Motherboard claims that Disney is particularly concerned about Trump tweeting about the entire back-and-forth between his White House and the Disney company.
"It would most likely result in a call for conservatives to boycott Walt Disney World, which is the company's biggest fear," the source told Motherboard.
What an embarrassment.
Update, June 28th, 1:44pm: Motherboard has now retracted its story quoting an unnamed source at Disney about the claim that the Trump team was insisting on writing the whole speech.
After a thorough investigation into the sourcing of two stories, "Here's the Secret Backstage Trump Drama at Walt Disney World's Hall of Presidents" and "Behind the Scenes of Disney's Donald Trump 'Hall of Presidents' Installation", and the identification of several factual errors, we have decided to retract both pieces. We are conducting a full editorial review to pinpoint how this source was vetted, and how these stories were approved and published in violation of our usual editorial workflow. We fell short of our standards, and regret the error.
So who knows what the hell is going on. If you have any information, send it my way: novak@gizmodo.com. It's still incredibly suspicious that it's taking this long to get the attraction back online.
[News 13 via WDW News Today and Motherboard]