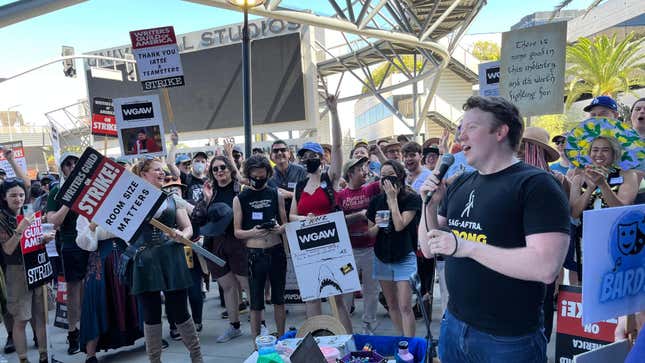 When Jon Strahd, the evil CEO of Ravenloft Studios, was defeated, the crowd at Universal Studios gave a huge roar. A group of 500 adventurers had shown up to picket at "the worst [Hollywood] location," and about 100 were now engaged in a existential fight with a contemporary capitalist, a spin on Wizards of the Coast's notorious vampire, Baron Strahd von Zarovich, led by DM Brennan Lee Mulligan. (Wizards of the Coast, which had recently produced a massive Dungeons & Dragons film with Universal Studios, did not endorse this event.)

Gillian Jacobs Reacting to Her D&D Character Sheet From Community | io9 Interview
But Strahd wasn't the final villain. As the metaphorical vampire crumpled under the weight of a zone of truth cast in order to expose the real streaming numbers, battered by the orcas summoned to destroy his yachts, an even more terrifying monster emerged from the shadows. The adventurers waited with bated breath as Mulligan–a professional dungeon master known for his shows on Dimension 20–narrated the scene. Rising from the ashes of the CEO came a massive, five-headed dragon. This was the real Big Bad Evil Guy: the AMPTiamat.
This was the beginning of the end of the Dungeons & Dragons-themed picket day at Universal Studios on August 30. The event was organized by three members of the WGA: Daphne Miles (Batwoman, Legends of Tomorrow), Lindsey Allen (Agent Carter, Emergence), and Lauren Muir (The 100). Miles had the idea at another picket—how could she leverage her love of D&D to help the union? Immediately after floating the idea past a friend, he volunteered to run a one-shot, and she was off to the Sword Coast. Allen was quickly recruited to help and Muir immediately responded to the call for aid, and the three of them worked together to organize one of the largest pickets that Universal Studios has seen in the 100+ days since the WGA began its strike. io9 spoke with the three organizers over video chat for this interview.
Out of the over 500 people who attended, the organizers said that there were about 350 people there who had never been to a picket before—and that was a conservative estimate. There were so many people in attendance that "we ran out of signs," said Muir, and that wasn't all. "We ran out of character sheets, we ran out of dice, we ran out of nametags," listed Allen. While Dungeons & Dragons might have been the draw for many people when they first heard about the picket, nobody at the event lost sight of the fact that they were there for the unions first. "They were there for D&D as much as they were there to support the cause," explained Muir.
Allie Menelli was one of those first-time picketers. She's a long time D&D player, and she said that she didn't have "any direct connection" to the unions. While the initial draw was D&D, she said that "I appreciate the importance of writers in making [media] happen, and I think it's a disgrace that many writers do incredible work crafting stories that we as an audience resonate deeply with, but still struggling to make ends meet and to be treated fairly by studios."
People began showing up at nine sharp and were greeted by Liam O'Brien and Sam Reigel of Critical Role. They picked up dice, a character sheet, and a sign, and were directed to the picket line. For about an hour people marched the picket line and stopped at Gate Masters who ran "short, intense" adventures. If they succeeded, they were given a boon to use in the final battle, which would be run by Mulligan for the entire group. Then, at Citywalk, Mulligan gave a rousing speech, thanked the organizers—Miles, Allen, and Muir—and began the final encounter.
Another participant, Felix B. said they wanted to attend, "first and foremost, for union solidarity. I'm not in the WGA or SAG, but I am an IATSE member." They also said that it "seemed like it was going to be fun. I mean, free food, mini-adventures, and I'm sorry, what do you mean Brennan 'Capitalism is the Bad Guy' Lee Mulligan is running a GROUP boss battle? What IS that?!"
Brennan Lee Mulligan's name kept coming up in these interviews. Not just because he's a well known D&D personality, but because he helped facilitate one of the most powerful moments of the strike: the final battle. io9 was able to get Mulligan on the phone to chat about the event, and after about 10 minutes of shooting the shit, we finally got to ask a few questions about the picket, and specifically that last scene in the final battle.
For each character class a group of people decided on their moves collectively, and took turns attacking the five-headed AMPTiamat. Then, "on the final blow, the Fighter ended up rolling a natural 20," Mulligan explained, excited. He described how Muir's game design tweaks meant that a natural 20 activated Union Power, and every class could add damage to the attack. So when that one fighter struck, they had the power of every other person striking alongside them. Under the collective force of all the classes—and all the unions out there, supporting the strikes—the dragon fell. Mulligan described it as "a beautiful melding of mechanics and philosophy and solidarity."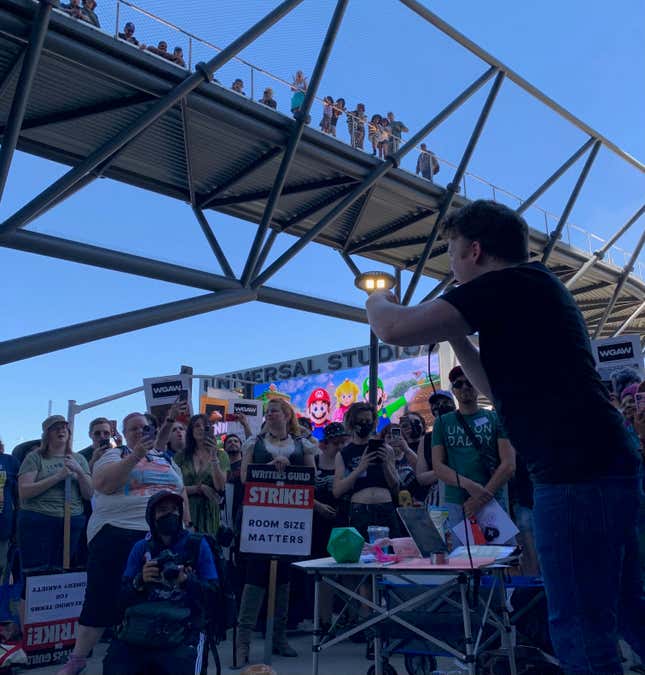 Miles said, "It was a kismet moment in we could not have planned it or written it, you know?" Muir called it "magical." Logan Griffin, who described Mulligan as one of his personal heroes, called the feeling at the picket "empowering" and "awe-inspiring." The organizers recalled looking up and seeing people on the bridge above Citywalk cheering. Allen said that "being surrounded by this massive crowd who were all working together and, with so many more people than we had anticipated, still being able to work together as a group, being cheered on from above… I got emotional because it really just felt like we were fighting together."
Mulligan described the "electric" feeling at the picket. He was genuinely so excited to talk about this, to be there, and was honored to have been called and asked, "Do you want to be in solidarity with your union and do the one skill you have in a helpful was?" Mulligan was effusively grateful to the organizers for letting him be a part of the event. He estimated that he responded to the initial ask in "less than 60 seconds," and said the event was a "life highlight."
After the AMPTiamet fell, the crowd began to chant "loot!" It's common refrain for any D&D player; after an enemy dies, you loot the body. But this wasn't just any body—this was the body of a dragon who had, as Mulligan explained, "stolen and expropriated treasure from the hero's community. Which is of course the nature of capitalism and how it functions… So when the group started chanting 'loot, loot, loot,' I just stood up and I said, 'It's not looting if was your fucking money to start with,' which is of course, the nature of the struggle, right?"
Melissa Feuchtinger, a member of the DGA and SAG-AFTRA, and a massive fan of D&D, emailed me to explain why she felt so moved after the picket, and specifically after this final battle. "So much of fantasy and science fiction is rooted in humanity and current events, so for us to fight a five-headed dragon called the AMPTP, to have our Rogue party member granted sneak attack because they're always near allies as union members... it felt so personal." Feuchtinger, like many other ADs, has been out of work since March as the studios wrapped productions, anticipating a disruption. "I hope that people who showed up who were less informed about the strike left knowing that this is affecting, this is hurting, so many of us and that we need that support and solidarity from everyone."
Menelli agreed. "I really felt the solidarity in the crowd—we cheered each other on as each class contributed to the fight, we booed the corporate greed, we collaborated, we picked each other up when things got rough." Nate Buchman was also in attendance, and he volunteered to run a one-shot for raffle winner. He's not a member of either the WGA or SAG-AFTRA but said that being there felt like "the right thing to do."
Dave Metzger, a TV writer and one of the folks who acted as a Gate DM, said via email that "It truly felt like the best kind of storytelling, using fiction to help us remember the truth, that we're far stronger together than we are apart, and, no matter the pain and the cost, through collective action we will win out in the end." He called the picket "hugely fun and inspiring" and emphasized that themed pickets, while sometimes disparaged, are extremely helpful when you're working to keep morale high and keep people engaged. He said that many themed pickets "remind everyone of the creative spark that drew so many of us to this career, to begin with."
As I was wrapping up my interview with the organizers they mentioned that they had raised a huge amount of money for the Entertainment Community Fund. As of writing, the JustGiving page for the D&D Day donation has raised over $12,000 to support the crew affected by the industry shutdown. It proves that this fight isn't just for the unions; it's for everyone, and everyone is willing to show up to support each other.
Earlier at the picket, Mulligan had a chance to address the crowd before the battle. "We face an enemy that depends on you believing that it cannot be defeated," he said. "But we know that it can. Every person in this crowd is dedicated to stories about overcoming impossible odds and telling people that in the depths of despair there is always hope and no matter what you are facing when you face it together, you are unstoppable."
You heard him. Roll for initiative.
---
Want more io9 news? Check out when to expect the latest Marvel, Star Wars, and Star Trek releases, what's next for the DC Universe on film and TV, and everything you need to know about the future of Doctor Who.