It's the sort of pairing that makes no sense, until you think about it: Novelty-record god Doctor Demento and avant-rock pioneer Frank Zappa. Doctor Demento was a guest at the World Science Fiction Covention this past weekend, and he paid tribute to one of his great inspirations.
You might think Doctor Demento would have been celebrating Weird Al Yankovic or Barnes and Barnes instead, or some other humor-record artist. But Zappa and Demento were longtime friends, with Zappa appearing on Demento's radio show as a guest several times, including in 1972 and 1988. In a special Worldcon presentation, Doctor Demento paid tribute to his friend with a tour of Zappa's creative process and musical influences.
Demento called Zappa "the most major musical inspiration for me when I began the Dr. Demento Show, and he remains one of our half dozen most requested artists to this day." He talked about the "complex harmonies, cross rhythms and a lot of virtuoso musicianship" in the first piece he played, "Don't Eat The Yellow Snow." He talked a lot about the ways in which Zappa recycled musical ideas over the years, and referred to it as "conceptual continuity."
Wearing his trademark top hat, Doctor Demento played some excerpts from Zappa's music as well as some songs by other artists that Zappa had loved. He also played snippets of some of Zappa's appearances on his show, so that the musician could speak in his own words. (Demento very kindly gave us a copy of his notes afterwards.) You can watch one of Demento's interviews with Zappa at left.
In one of the interview snippets we heard, Zappa talked about how he started out as a neoclassical composer, until he realized he would have to pay other people to perform his compositions. His influences included not only avant-garde classical music like Igor Stravinsky and Edgard Varese, but also rhythm and blues and doo-wop. What Zappa called "white-person radio" wouldn't play R&B, so he had to run all over town to find copies of these records, and he got a lot of them from second hand jukebox single stores.
Here are some snippets from Demento's presentation:
Demento walked us through Zappa's early career, including his stint recording for Pal Studios, and Demento played us a bit of one tune, "Break Time" by the Masters. Meanwhile, Zappa was already playing in bar bands in the early 1960s, and Demento played us an excerpt which shows him already beginning to experiment with heavier stuff. Zappa also composed some soundtrack music for a low budget film, Run Home Slow, which his former high school English teacher had written, and this is some of his earliest avant-garde classical stuff on record. And then we heard Demento's first commercial success: a song called "Memories of El Monte" by the Penguins, about a local dance hall called El Monte Legion Stadium, where R&B and doo-wop acts performed.
G/O Media may get a commission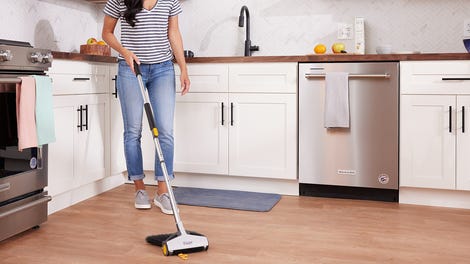 BOGO 50% Off
Flippr - BOGO 50% Off
Zappa served some jail time for helping to make a pornographic recording for someone who turned out to be a cop, but then he joined a band called the Soul Giants and slowly began to mold them into the Mothers of Invention. His compositions were "getting more inventive by the day," and no longer really suitable for the sort of blue-collar suburbs where the Soul Giants had been playing. Eventually, the band started playing clubs like the Whisky-a-Go-Go on the Sunset Strip, and they came to the attention of the record industry. This led to Zappa getting his first record deal.
In Zappa's first appearance on Demento's radio show, he brought along some of his favorite records and introduced them, and Demento played us some of that segment, including one of the most demented doo-wop records ever (complete with bizarre sobbing) and Strazinsky's madcap take on "Happy Birthday." We also heard a lot of Zappa's early strange compositions, like "Hungry Freaks, Daddy," "Call Any Vegetable," and "Lumpy Gravy." Demento told us:
People heard stuff like that and they assumed that Frank must be out of his mind on every drug that you can imagine, but that wasn't the case at all. Frank kept a well-stocked bar in his home but I never saw him take a drink.
By 1969, Zappa "seemed to be testing how far he could go in the direction of serious music with a rock band, albeit one composed of very good musicians," said Demento. And meanwhile, he was producing other artists, including Grand Funk Railroad, Burt Ward (Robin from the 1960s Batman TV show) and Captain Beefheart's "extremely unconventional songs."
Demento told us:
Frank Zappa was known as the toughest taskmaster in the business, but he loved to stand back and watch the strange behavior of his musicians offstage. He made note of anything strange or colorful that they did. His feature film 200 Motels, from 1971, is basically a home movie about the band's travels. And the same principle applied when his daughter Moon Unit started using her friends' odd figures of speech. Frank wrote a song around some of these, and woke Moon up in the middle of the night to make this record in the Zappa home studio.
Demento also played a great soundbite of Zappa talking about certain people who have "a perverted view of the way human behavior needs to be regulated, and they have a perverted view of the importance of dirty words." These are people who suffer from "sexual maladjustment" or "religious superstition," which they're entitled to practice in their own homes — but they shouldn't try to control the behavior of other, healthy people.
Later in his career, Zappa had problems with "high-strung musicians" and too much financial overhead, so he invested in a synclavier, so he could record more music by himself. That led to his album Jazz from Hell, which led to his only Grammy Award.
In the late 1980s, some of hs fans started a "Zappa for president" campaign, started as a joke but took on some traction because Zappa was friends with then-Czech president Vaclav Havel. We heard a soundbite of Zappa talking about the fact that the White House has lots of room for a recording studio, especially if you cleared out the mess that Ollie North had left. "I don't see why living music should be excluded from politics in America," Zappa said. "You can get more of a good point across with one good guitar note than with 85 paragraphs of State of the Union address."
And the last music Zappa recorded, said Demento, really sounded like something his idol, Igor Stravinsky, could have written.