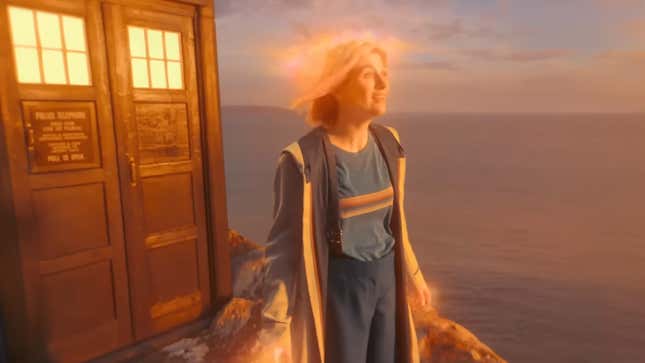 Jodie Whittaker's final episode of Doctor Who was a mixed farewell to a tenure beset by challenges—but as Doctor Who has barreled ahead since by mostly looking back, with its focus on the show's 60th anniversary and the celebratory return of former showrunner Russell T. Davies and star David Tennant—it has felt in places like the show is trying to quickly move on from its experimental era.

How does Russell T. Davies feel about those concerns? Well... I think it's fair to say he isn't taking them all that seriously. Writing in his regular column for the official Doctor Who Magazine's October issue (via Radio Times), Davies cheekily touched on the sentiment while pondering footage from the new season of the show, which will star Ncuti Gatwa as the 15th Doctor. "Oh my God, the TARDIS, the Jodie exterior, she has NOT been erased," Davies jokes. "And yet by not erasing her, are we erasing the argument that she's been erased and therefore this is an act of erasure, IS IT?"
While this is a more tounge-in-cheek acknowledgement of some fan's concerns, Davies already more prominently addressed one of the bigger "snubs" of an outgoing Doctor's tenure shortly after "The Power of the Doctor" aired—the fact that, in a move against tradition, Tennant's 14th Doctor regenerated from Whittaker's already complete with a new costume, instead of wearing his predecessors.
Davies, writing in a prior issue of DWM, defended the change as not an alleged snub on Whittaker, but to safeguard Doctor Who from faux-hysteria over drag and gender identity, given the tumultuous rise of transphobic and anti-drag movements in the UK and US. "I was very certain that I didn't want David to appear in Jodie's costume. I think the notion of men dressing in 'women's clothes', the notion of drag, is very delicate. I'm a huge fan of that culture and the dignity of that, it's truly a valuable thing, but it has to be done with immense thought and respect," Davies previously wrote. "With respect to Jodie and her Doctor, I think it can look like mockery when a straight man wears her clothes. To put a great big six-foot Scotsman into them looks like we're taking the mickey."
"If [the press] can play with gender in a sarcastic or critical way, they will," Davies continued. "We could have the Doctor dressed as a knight, or dressed as God, or dressed as William Hartnell, and the only photo they'd print would be of David in what they considered to be women's clothes."
So while his latest comment on fan concerns is perhaps more on the playfully mean side—it's safe to say the showrunner is thinking a lot about how to best safeguard and respect the tenure of Doctor Who's latest departing Time Lord. Doctor Who returns in November, for a trio of special episodes celebrating the series' 60th anniversary.
---
Want more io9 news? Check out when to expect the latest Marvel, Star Wars, and Star Trek releases, what's next for the DC Universe on film and TV, and everything you need to know about the future of Doctor Who.