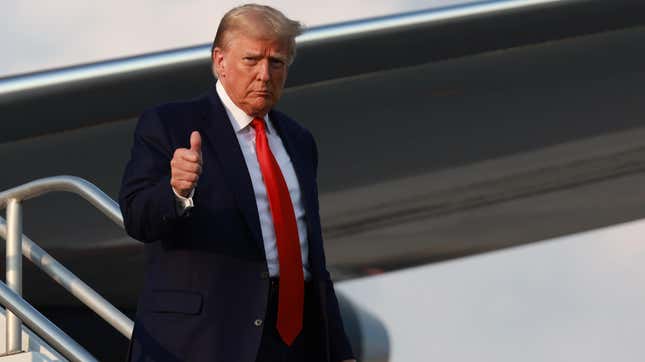 Verbal filtration has never been one of Donald Trump's strong suits, but if the former President can't figure out how to shut his trap he might end up in even more legal trouble than he currently finds himself.
The former reality star turned leader of the free world is currently facing criminal indictments in four separate jurisdictions (Georgia, Florida, Washington D.C., and New York) and is under active investigation in a number of others. Predictably, Trump hasn't been able to shut up about any of this, and has continued to post about his various legal woes via his Twitter clone, Truth Social. Now, however, government lawyers for Jack Smith (the Special Counsel prosecuting the D.C. case) have made a filing that claims Trump's incessant posting could prejudice a jury pool in the case against him.
On Tuesday, lawyers attached to Smith's team made a filing that notes "the defendant's daily extrajudicial statements," the likes of which "threaten to prejudice the jury pool" in the case. The filing is part of a broader legal argument between the prosecution and the defense over what case information can or should be made publicly available.
Smith's recent filing was made in response to a recent request from the Trump team that had asked the federal judge overseeing the case, Tanya Chutkan, to vacate a previous motion that had limited the amount of case information that could be disclosed. Chutkan previously imposed the restriction due to prosecutors' longstanding concerns that Trump's team might try to disclose and publicize sensitive case information if it serves Trump's political ends.
It's easy to see why Chutkan would think those concerns were valid because, in addition to yapping about nigh on every aspect of the legal case(s) against him, Trump has openly criticized Chutkan herself. In a recent Truth Social post, Trump referred to the judge, who is an Obama appointee, as "biased and unfair" and said that she "obviously wants me behind bars."
Chutkin, to her credit, hasn't taken this lying down. "I caution you and your client to take special care in your public statements about this case," the judge recently told Trump's lawyers. "I will take whatever measures are necessary to safeguard the integrity of these proceedings."
The recent filing's characterization of Trump's shitposts as "daily" is also not hyperbolic. Trump seems to post about his legal problems with about the same frequency that you or I eat a meal.
For instance, merely yesterday, Trump posted on his Truth Social account a screed against "Deranged Jack Smith," calling Smith's legal case a "fake, election interfering case", and ending his post with the emphatic demand: "DISMISS SUIT!" Only a couple of days ago, Trump let loose a similar rant against the Biden administration, which he blames for the numerous legal cases that have been heaped upon him. He said:
The Crooked Joe Biden Campaign has thrown so many Indictments and lawsuits against me that Republicans are already thinking about what we are going to do to Biden and the Communists when it's our turn.
In short: as per usual, Trump just won't shut up. The government really, really wants him to. It's hard to imagine Trump abiding by the legal advice that he do so, even if it came from his own lawyers, though at this point it probably would be a smart move. Some critics have argued that Trump's incessant running commentary is testing judicial norms, as such behavior could potentially stray into the realm of witness intimidation. Of course, when it comes to norm testing, Trump is always up for the challenge.