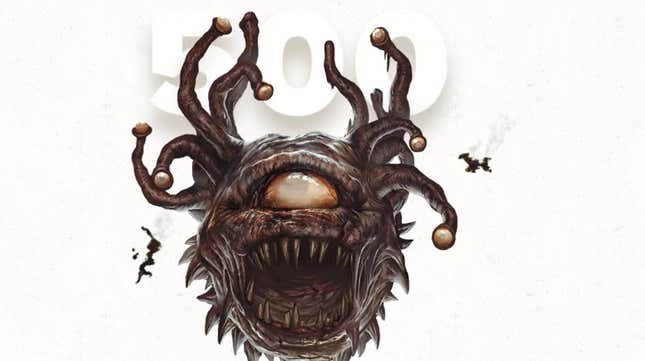 Dungeons & Dragons publisher Wizards of the Coast has apparently cancelled an announcement about its updated Open Gaming License for a second time this week. Inside sources at Wizards of the Coast tell io9 that the company is scrambling to formulate a response to backlash against the new OGL that has occurred over the past week, following io9's story about a leaked draft of the document.
Gillian Jacobs Reacting to Her D&D Character Sheet From Community | io9 Interview
Hasbro-owned Wizards of the Coast did not immediately respond to a request to comment for this story.
According to io9 sources, the new OGL, now known as OGL 2.0, was supposed to go live on Thursday afternoon, along with a detailed FAQ explaining changes and addressing fan concerns.
But when D&D personality Ginny Di tweeted that people should cancel their D&D Beyond subscription in order to send a clear message to Wizards of the Coast regarding what the fanbase thinks of the developments around the Updated OGL, the message was widely shared. A stream of subscribers turning off their payment to D&D Beyond appeared to temporarily shut down the landing page for subscription cancellations because of server errors.
The result of these cancellations and their impact on the bottom line of Wizards of the Coast is not negligible, according to io9's sources at the company, and has caused upper management to scramble to adjust their messaging around the situation, leading to the delays in the OGL release.
Wizards of the Coast also cancelled a pre-scheduled D&D Beyond live stream on Twitch, which had been set for 3:00 pm on Thursday, although the company stated on its Discord that this was done to update a previously agreed-upon schedule, rather than as a response to the purported announcement.
It remains unclear when Wizards of the Coast will release the hotly anticipated new OGL, and what its final contents will include.
In the meantime, Wizards of the Coast and Dungeons & Dragons appear to be at a critical point with their fanbase, facing petition drives, open letters, and announcements from third-party publishers like MCDM and Kobold Press rejecting the new OGL in favor of creating their own systems. On Thursday night, tabletop roleplaying game company Paizo, publisher of the Pathfinder system, announced that it will be pursuing the creation of a new creative license for third party developers which it says will be "open, perpetual, and irrevocable."
[Editor's Note: This article is a breaking news story, and the information cited on this page may change as the story unfolds. Our writers will update this article as new information is released.]

---
Want more io9 news? Check out when to expect the latest Marvel, Star Wars, and Star Trek releases, what's next for the DC Universe on film and TV, and everything you need to know about the future of Doctor Who.