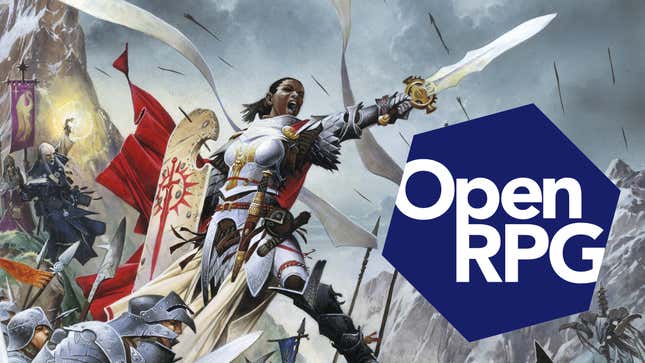 Tabletop roleplaying game company Paizo has released a statement following the delayed announcement of Wizards of the Coast's Open Gaming License 2.0. The company, whose staff includes several former Wizards of the Coast executives, developers, and lawyers, has announced that it will be pursuing the creation of a new creative license for third party developers which it says will be "open, perpetual, and irrevocable."
Gillian Jacobs Reacting to Her D&D Character Sheet From Community | io9 Interview
This Open RPG Creative License (ORC) is a direct response to the reports that have come out over the past week about the status of Wizards' updated Open Gaming License 2.0. Paizo has offered to pay for the legal work necessary to create this system-agnostic license, however, it states that it "will not be owned by Paizo, nor will it be owned by any company who makes money publishing RPGs." Instead, Azora Law, co-founded by Brian Lewis (the attorney who developed the legal framework for the original 2000 OGL at Wizards of the Coast) will "provide a safe harbor against any company being bought, sold, or changing management in the future and attempting to rescind rights or nullify sections of the license." The company hopes to pursue the establishment of a non-profit, like the Linux Foundation, to hold the final edition of the ORC license.
In order to pursue a more system agnostic and fair license, Paizo states on the site that it has "a growing list of publishers" that will participate in the development and expansion of this license. The companies include some major third-party publishers, including "Kobold Press, Chaosium, Green Ronin, Legendary Games, Rogue Genius Games, and Battlezoo." Paizo is actively looking to add to this group of publishers.
io9 has reached out to Paizo for a comment and will update this article accordingly.
---
Want more io9 news? Check out when to expect the latest Marvel, Star Wars, and Star Trek releases, what's next for the DC Universe on film and TV, and everything you need to know about the future of Doctor Who.