Madeleine Morris survived Nazi-occupied France, and went on to happily marry a wonderfully trained musician. Then she went on a trip the country, where their car slammed into a ditch. Nine dropped AT&T calls later, they were both dead.
This certainly puts your dubious AT&T coverage in perspective, don't it? The ol' dropped call in your apartment suddenly doesn't seem so bad, reports the NY Daily News:
Stuck in a ditch just 60 feet from their Catskills vacation home, Arthur and Madeleine Morris, devoted to each other for nearly 50 years, desperately dialed for help nine times. Nine times, the call would not go through - so the panicked seniors tried to escape themselves, with disastrous results. Arthur, 88, was smothered trying to crawl out of the Ford Fusion, while brave wife Madeleine, 89, trekked to a road but died of exposure after a rainy night under a tarp.
The ill-fated trip to the Catskills reveals a truth about cell coverage across the country, whether it be Big Blue or Big Red: it sucks in the woods. These deaths were due largely to the frailty of the victims, but if it'd been an able bodied couple, they could have been equally screwed to death. Simply, carriers don't care about backcountry—even in a bourgeois vacation area like the Catskills, where the service is pretty spotty even by AT&T's own records. There aren't enough people to warrant building up antennae—especially when we're all bitching about how poor the reception is in Manhattan and San Francisco.
But we're dependent on these things, our phones. We rely on them to the point that we hope they'll keep us from dying. And in many parts of a big continent, you'll have to take your chances. And just remember: Verizon might kill you too! [NY Daily News]
G/O Media may get a commission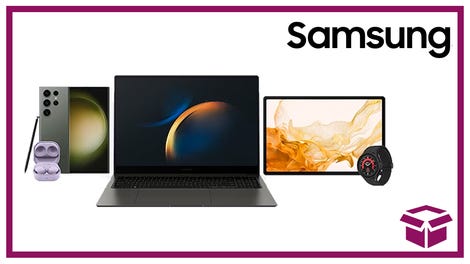 24 hour deals
Discover Samsung - Daily Deal