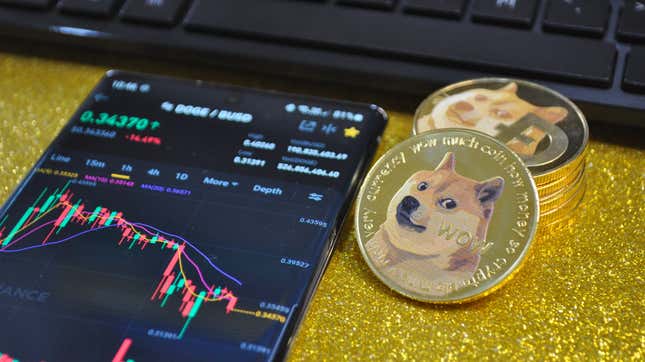 Billionaire Elon Musk's ever-present interest in the meme crypto Dogecoin keeps nipping at his heels. On Wednesday, the folks suing the multi-company exec for $258 billion over his efforts to inflate the price of Dogecoin now say Musk had prior knowledge of Doge's ups and downs, and even had a "fiduciary relationship" with the meme coin.
Twitter Investor Sues Elon Musk Over Sneaky Stock Purchases
The lawsuit was originally brought by investors of Musk's companies including Tesla, SpaceX, and Boring Co. They've been arguing since last year that Musk was running a kind of pyramid scheme, trying to get people invested in Dogecoin so he could cash out and make a tidy profit. Last month, Musk's lawyers asked the court to toss out the lawsuit claiming it was a "work of fiction."
Late on Wednesday, the investors filed a motion to amend the lawsuit to consolidate several of their claims, but also to add allegations that Musk had sway over the meme coin. The investors claim the self-proclaimed "Dogefather" drove up the price 36,000% by May 2021 just before Musk called Dogecoin "a hustle" live during a stint hosting Saturday Night Live.
The lawsuit brings up Musk's eye-rolling crypto promotions, such as in April when he changed Twitter's blue bird logo to the image of Kabosu, the inspiration for the Shiba Inu meme and, by extension, the crypto coin. Musk's clowning shot the price of Dogecoin up 30%, though when it was eventually removed the coin's value rapidly depreciated. The investors claim Musk sold about $124 million in Dogecoin that month.
The lawsuit further calls him an "apex predator, feeding on and manipulating the hordes below, including his Twitter following which has grown to 141 million."
Gizmodo reached out to Musk's attorney Alex Spiro for comment, but we did not immediately hear back.
As to how Musk is involved in Dogecoin, the investors point to an instance in 2019 when stakeholders jokingly declared the billionaire "CEO" in an online survey, which Musk then took the ball and ran with it. He later said "Dogecoin might be my fav cryptocurrency. It's pretty cool." The official dogecoin account quote tweeted Musk and joked more about him being CEO and asking him to DM the Dogecoin team.
In 2021, days after the Dogefather's SNL comments, Decrypt reported that Dogecoin developers had been actively advised by Musk since that whole "CEO" joke in 2019. Developer Ross Nicoll told the outlet Musk "encouraged them to improve the higher transaction throughput." Musk has mentioned in tweets previously that he has worked with the small Dogecoin dev team. Team co-founder Jackson Palmer has called Musk a "grifter" who had trouble running basic code. He has also tweeted complaining, in part, of "billionaires manipulating markets."