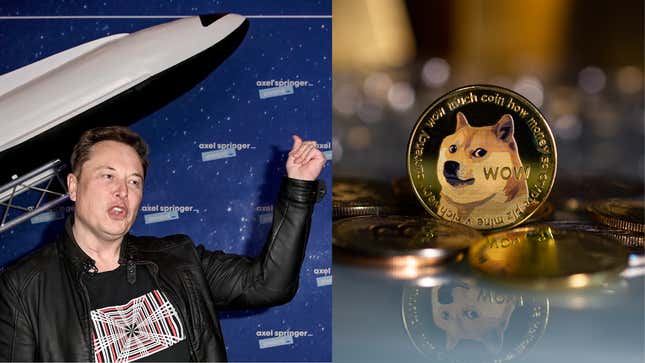 'What goes up must come down' is a fundamental truth of physics, and also seemingly of cryptocurrencies. Sometimes though, the coins get a little help on the roller coaster ride. On Thursday evening, after hyping the blockchain bucks, Twitter pulled the rug out from under Dogecoin.

NPR Is Going Dark on Twitter | Future Tech
Dogecoin, Elon Musk's favorite crypto memecoin, got a big boost earlier this week after the Twitter CEO swapped out his platform's classic bluebird home button with an image of Kabosu the Shiba Inu's face. As has happened before when Musk offers Dogecoin publicity, the value of the digital currency shot up—by more than 30%.
Four days later though, the bluebird returned to its rightful place, the Doge image was no more, and the corresponding cryptocurrency's value plummeted by around 8% in 24 hours, as of writing. Since Monday's spike, Dogecoin's value has slumped almost all the way back down to the $0.076 it previously sat at.
Once again, the world's richest man has decided to have some fun at the expense of crypto fanboys. Maybe people on the internet saw the Twitter logo change and thought: 'Musk must be up to something substantive.' 'Maybe Twitter is developing its own exchange platform.' 'Surely, there must be some reason behind the madness.' Gizmodo is here to report: probably not.
In past instances of Musk-affiliated Dogecoin spikes, the billionaire drummed up a value surge by tweeting. Once, when he posted that Tesla would accept the cryptocurrency as payment. Again when he tweeted that he was "working with Doge devs to improve system transaction efficiency."
"Potentially promising," Musk tacked onto the end of the latter post.
Then, there were all of the other times he tweeted out Doge and crypto hype, despite his claims to the contrary. Of course, there was also the Dogecoin "Dogefather" SNL debacle.
The point is: when your personal wealth eclipses the GDPs of most of the countries on Earth, goading your online followers into burning their money on a joke probably just seems like innocent fun. Unfortunately for Musk, not everyone agrees.
The multi-hyphenate CEO is facing down a multi-billion dollar racketeering lawsuit in federal court relating to his Dogecoin musings. On Friday evening, just a couple of days before pulling the Dogecoin logo Twitter maneuver, Musk's lawyers formally asked the Manhattan court to dismiss the case.
"Mr. Musk posted innocuous and often silly tweets about a cryptocurrency called 'Dogecoin.' But there is nothing unlawful about tweeting words of support for, or funny pictures about, a legitimate cryptocurrency that continues to hold a market cap of nearly $10 billion," his legal team wrote in a memo filed Friday.
It's not the first time Musk's tweets have landed him in court. Previously, a post about taking Tesla private led to a fraud trial. In February, a San Francisco Jury cleared the billionaire of those charges and declared he wasn't liable for investor losses.