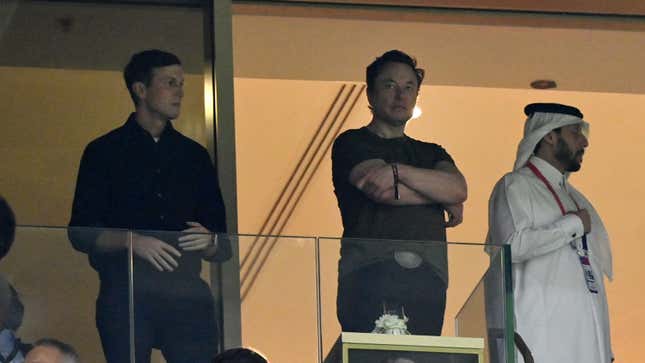 Elon Musk, who heads Tesla, SpaceX, and Twitter and to date has no clones we know of, slammed remote work in a wide-ranging interview with CNBC's David Faber on Tuesday. Musk said the practice was "morally wrong," despite the fact that he's hardly the best example of an office-going parishioner.
NPR Is Going Dark on Twitter | Future Tech
Musk's distaste for remote work isn't new. Shortly after he took over Twitter last year, Musk ended the company's "work from home forever" policy, which had been created by the company's previous CEO, Jack Dorsey, and ordered everyone back into the office. The move came a few months after Musk delivered the same edict at Tesla, telling employees at the electric car company that people who wanted to continue to work from home should "pretend to work somewhere else."
The tech CEO's comments to CNBC, however, are some of his strongest public remarks on remote work to date and come at a time when an increasing number of tech leaders are pushing their employees to go back to the office.
"The laptop class is living in la la land. Look at the cars," he said, referencing Tesla's factory. "Are people working from home here? Of course not. The people [that are] building the cars, servicing the cars, building houses, fixing houses, or making the food, making all the things that people consume—it's messed up to assume that they have to go to work but you don't. [Why] is that? It's not just a productivity thing. I think it's morally wrong."
Musk went on to say that there are some exceptions to remote work and stated that he didn't expect people to work seven days a week like he does. Considering how much time Musk spends tweeting out memes and random content, this statement is questionable. The billionaire also pointed out that he believed people should take vacations, even though he said he only takes about two or three days off per year.
Musk and Faber talked about a wide range of topics in their interview, including Tesla's ability to withstand the economic turmoil and his friendship with Google cofounder Larry Page (update: they are no longer friends). Faber also asked Musk about OpenAI, the Sam Altman-led company behind the popular ChatGPT chatbot, which the tech billionaire proceeded to stress "wouldn't exist without me."
On the subject of Twitter and his often controversial tweets, some of which add fuel to conspiracy theories, Musk claimed he had freedom of speech and could say anything he wanted. Notably, the Twitter owner said he didn't care if his tweets caused him to lose money. "I'll say what I want to say. If the consequence of that is losing money, so be it," Musk told Faber.