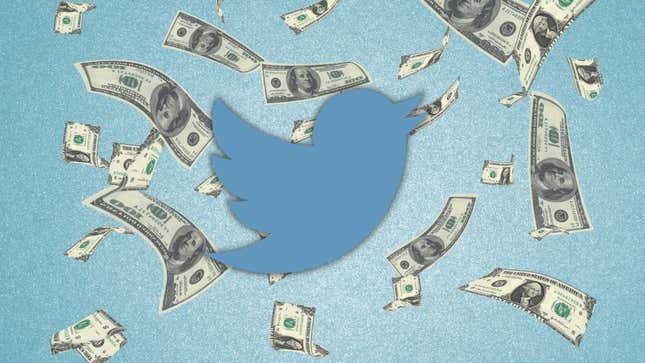 Elon Musk's Twitter, which in a few short months has become infamous for not paying its bills, has made its first acquisition.
NPR Is Going Dark on Twitter | Future Tech
The social media company acquired the relatively unknown job search startup Laskie, Axios and Bloomberg reported on Tuesday. According to its website, the company bills itself as a sort of dating app for job seekers and employers and touts its "precision matches." One of Laskie's founders, CEO Chris Bakke, previously sold the startup Interviewed to Indeed in 2017. Both outlets cited unknown sources familiar with the deal. Axios reports Twitter paid tens of millions for the company in cash and stock, though, no sale price has been disclosed so far.
As of Tuesday morning, Laskie's website was no longer online. Attempts to access the website produced the following message: "The Laskie platform is no longer available." However, Gizmodo was able to view a saved version of the website through the Internet Archive.
"We believe that finding an incredible remote job shouldn't be so challenging. We've helped everyone from engineers to designers to marketers find their dream role," Laskie's now-deleted "About" page reads. "Our job is to match you with opportunities you want at companies that are interested in you." Musk previously barred Twitter employees from working remotely, leading some to quit.
In a blog post, Laskie CTO and cofounder Daniel O'Shea stated that job seekers using Laskie moved forward with more than 80% of the matches recommended to them by the company. While Laskie was always free for job seekers, the company charged employers a percentage of the hired employee's first year's salary as payment for its services. Laskie was founded in 2021 and last disclosed that it had raised $6 million in a seed round led by Bloomberg Beta and Peak State Ventures.
Gizmodo reached out to Twitter's press office for comment on Tuesday morning but received the company's standard poop emoji in response.
Twitter's acquisition comes just days after Musk appointed former NBCUniversal executive Linda Yaccarino to be the social media company's new CEO, saying she would start in about six weeks. Yaccarino resigned from her job overseeing advertising at NBCU last week.
As of now, Musk is still in control of Twitter. Under his watch, the company has made headlines numerous times for not paying its landlords or suppliers. Musk's refusal to pay bills lead to the temporary eviction of Twitter's employees in Singapore. Others, meanwhile, were forced to bring in their own toilet paper after he fired the office's janitors. Musk has also changed Twitter's name to "X" and said he wants to make it into an "everything app" that includes payments.