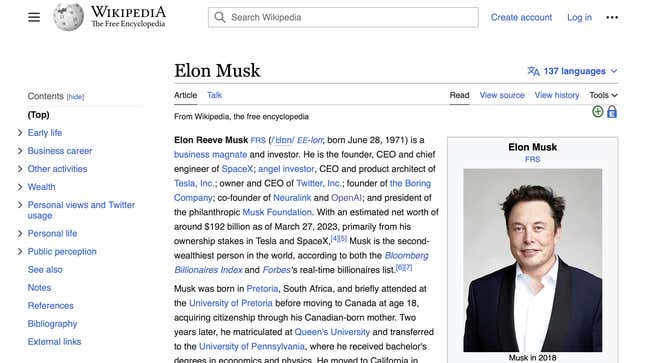 Twitter CEO Elon Musk apparently trusts Wikipedia more than any expert or audited report and uses it to make crucial decisions about press freedom.
NPR Is Going Dark on Twitter | Future Tech
Musk told NPR reporter Bobby Allyn on Monday evening that he uses a Wikipedia page on "Publicly-funded broadcasters" to determine which outlets receive Twitter's controversial new "Government Funded Media" label on their profiles. According to the company's updated help article on media account labels, Twitter considers outlets to be "Government Funded Media" when "the government provides some or all of the outlet's funding and may have varying degrees of government involvement over editorial content."


The help article includes a link to the Wikipedia "Publicly-funded broadcasters page" stated that Twitter "may use external sources similar to this one in order to determine when this label is applied." Over the weekend, Twitter slapped "Government Funded Media" labels on NPR, PBS, the BCC, and Voice of America News.

When Allyn told Musk that the U.S. government doesn't have any sway over NPR's editorial decisions, the Twitter CEO dismissed his explanation. U.S. government funding only represents about 1% of NPR's total funding.

"If you really think that the government has no influence on the entity they're funding then you've been marinating in the Kool-Aid for too long," Musk said.
Gizmodo reached out to NPR for comment on Tuesday morning but did not immediately receive a response.
The news that Musk is using Wikipedia to make decisions about media labels is the latest twist in the nearly week-long fight with NPR and other outlets over their editorial independence. The drama started last Wednesday when Twitter affixed NPR's account with a "state-affiliated media" label, which is the same label Twitter applies to known state propaganda outlets like China's Xinhua News and People's Daily as well as Russia's RT.
The "state-affiliated media" label, besides being inaccurate, also appeared to come out of the blue, as NPR's Twitter account previously did not have any labels. NPR stopped tweeting in protest and said it wouldn't resume tweeting until the label was removed. The outlet has not tweeted since April 5.
In the days that followed, Musk decided to change NPR's "state-affiliated media" label to a newly-created "Government Funded Media" label and also stuck the label on the BBC, PBS, and VOA. The BBC immediately protested its new label and reached out to Twitter to ask the company to remove it, stressing that it was funded by individual UK households through the "license fee system" and was editorially independent from the government.
The BBC published a story objecting to its new label on Monday, where it stressed that is "and always has been, independent." Musk told the BBC that he was considering rolling out a label that would link to the outlet's exact funding sources.
"We are aiming for maximum transparency and accuracy. Linking to ownership and source of funds probably makes sense. I do think media organizations should be self-aware and not falsely claim the complete absence of bias," Musk said, as reported by the BBC. "All organizations have bias, some obviously much more than others. I should note that I follow BBC News on Twitter, because I think it is among the least biased."
Unlike NPR, the BBC has continued to use its Twitter account (@BBC). Strangely, not all of the outlets Twitter accounts have the "Government Funded Media" label.
PBS and VOA also pushed back against their new labels, the Hill reported, and warned that it could give the public the wrong impression.
"The label 'government funded' is potentially misleading and could be construed as also government-controlled' – which VOA is most certainly not," a VOA spokesperson said. "Our editorial firewall, enshrined in the law, prohibits any interference from government officials at any level in its news coverage and editorial decision-making process."