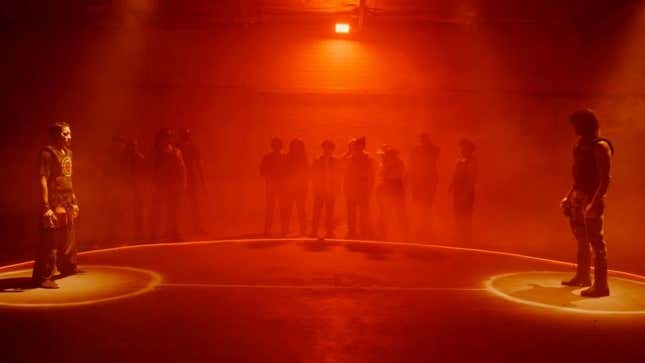 It's March 17, and we all know what that means. It's Kurt Russell's birthday! A group of John Carpenter super-fans have picked this occasion to release their fan film: Call Me Snake, a note-perfect homage to the director's 1981 sci-fi classic Escape From New York, starring Russell as eye patch-wearing rebel Snake Plissken.

Chris Pratt's Mario Voice | New York Comic Con 2022
Call Me Snake, directed and written by Sean E. McCarthy, takes place in the early 21st century, a time when free-thinkers and hellraisers have fled the U.S., where vices are banned (smoking, drinking, gambling, swearing) and bigots have taken over, with gay people and anyone interested in religious freedom paying the price. In a lawless corner of the world—the appropriately named New Vegas, Thailand—an underground duel introduces its opponents: the wild-eyed "Kabuki Joe" (Davis Noir) and a certain mystery man (Matt Kohler) who's "of few words, and a giver of even fewer fucks." Guess who?
Yep, he's a stone-cold badass in a fight, but he can barely contain his disgust and horror at being recognized by an admirer... or, egads, the sight of an umbrella in his cocktail. It's worth noting that the fan film takes place in between the events of Escape From New York (which is set in 1997) and Escape From L.A. (which was released in 1996, but takes place in 2000), in case you're wondering where it falls in Snake's own dystopian timeline. As we find him, he's not actively trying to escape a particular place for once, but he's definitely still a guy who effortlessly makes enemies everywhere he goes.
Escape From New York—its tone, its storyline, its setting, its surly hero, its distinctive musical score—has been highly influential in the four decades since its release. (Let us speak not of the long-rumored, much-dreaded remake.) Call Me Snake nails the qualities that've made Escape such a beloved cult favorite among fans and filmmakers alike; the character with the cackling laugh is a nice touch, as are the knowingly cheesy moments sprinkled throughout. Hey, team Call Me Snake—can we get a Big Trouble in Little China homage in time for next March 17?
---
Want more io9 news? Check out when to expect the latest Marvel, Star Wars, and Star Trek releases, what's next for the DC Universe on film and TV, and everything you need to know about the future of Doctor Who.