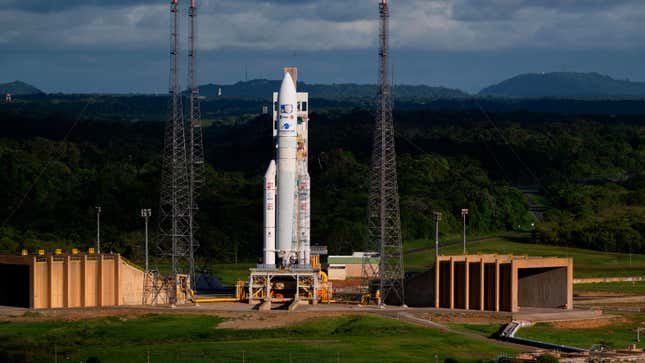 Europe's navigation satellites are in desperate need of a ride to space, so much so that the European government is seeking to forge deals with U.S. companies to provide much-needed orbital access.
Astronomers Could Soon Get Warnings When SpaceX Satellites Threaten Their View
The European Commission is reportedly requesting approval to negotiate deals with private space companies like SpaceX to launch the Galileo satellites, Politico reported based on a copy of the draft request sent to European Union countries. The request stated that it would be an "ad-hoc security agreement" to "exceptionally launch" the next-generation satellites.
Galileo is a fleet of Europe's own global navigation satellite system designed to rival GPS in the United States. The first operational satellite launched to space in 2011 and 26 Galileo satellites are currently in orbit. The European Union Agency for the Space Program was betting on the next-generation Ariane 6 rocket to transport its satellites to orbit, booking the rocket for three launches in 2023, 2024 and 2025.
The debut of Ariane 6, however, has suffered multiple delays. The expendable launch vehicle was originally scheduled to debut in 2020, but its inaugural flight was recently pushed to the fourth quarter of 2023. The rocket is meant to replace its predecessor, Ariane 5, which is no longer in production. Ariane 5 is set to launch four more times this year before officially retiring, leaving Europe with little to no options for getting its satellites to orbit.
Aside from Ariane 6, Arianespace's Vega-C rocket suffered a malfunction in December 2022 that resulted in its destruction and its launches were suspended. This happened just a few months after Vega-C's long awaited debut, which was meant to fill the gap in the European market.
Europe has been scrambling to find rockets after it cut ties with Russia following its invasion of Ukraine. Out of the 26 Galileo satellites in orbit, 14 were launched by Russia's Soyuz rocket. In February 2022, Russia's space agency Roscosmos halted cooperation with Europe on Soyuz rocket launches from French Guiana and withdrew its 87 employees from the launch site.
Ariane 6 was originally meant to rival SpaceX's Falcon 9 rocket, but Falcon 9 keeps coming up as the most viable option for European launches. The European Space Agency was forced to turn to Elon Musk's SpaceX to launch its Euclid telescope in July 2022.
Aside from SpaceX, Europe may also consider booking launches on board United Launch Alliance's Vulcan rocket. The rocket has been in production since 2014 and is scheduled to make its debut on May 4 following several delays, although a recent explosion at the rocket's test stand could possibly further delay Vulcan's inaugural flight.
At a time when the space community is racing to deliver various spacecraft to orbit, Europe desperately needs its own launch vehicles to provide that coveted access to space without having to rely on non-European countries.
For more spaceflight in your life, follow us on Twitter and bookmark Gizmodo's dedicated Spaceflight page.