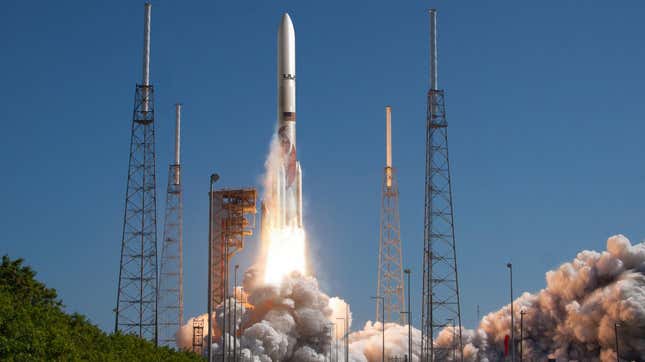 United Launch Alliance is hoping that the Force will be with them on May 4, a date the company is hoping to launch its Vulcan heavy-lift rocket for the very first time.
ULA chief executive Tory Bruno announced the tentative launch date for the Vulcan Centaur rocket during a call with reporters on Thursday, adding that the timing of the rocket's first flight still depends on a few remaining tests of the rocket and its engines, and the delivery of its payloads, SpaceNews reported. The rocket was supposed to launch in March, so this presents yet another delay.

The highly anticipated inaugural flight will take place from Cape Canaveral Space Force Station in Florida. The company has a four-day window for liftoff to accommodate a payload that's heading to the Moon; Vulcan is set to deliver Astrobotic's Peregrine lunar lander, which, on behalf of NASA, will attempt to deliver 11 payloads to the lunar surface. This payload can only launch during specific times each month, hence the short windows. 
The rocket will also attempt to deliver the first two Amazon Kuiper internet satellites to low Earth orbit. Its third, and more bizarre, payload are locks of hair belonging to late presidents George Washington, Dwight Eisenhower, John F. Kennedy, and Ronald Reagan, in a space burial that's being coordinated by the company Celestis.
Colorado-based ULA had originally hoped to launch Vulcan in 2020, but its debut has been subject to several delays. The rocket's first stage is powered by two BE-4 engines built by Blue Origin, a company owned by Amazon founder Jeff Bezos. Delivery of Blue Origin's engine came more than four years late, but recent tests of the engines exposed a potential problem: a pump on one of the engines consistently produced about 5% more oxygen than expected, Bruno told reporters, and as relayed by Ars Technica. After further analysis, the engineers decided that it was a "unit-to-unit variation," rather than something wrong with that engine, Bruno is quoted as saying.
The two-stage rocket will roll out to the pad in a few days where it will undergo its final flight readiness tests that involve filling Vulcan with propellant and firing its BE-4 engines at about 70% of rate thrust. The company is expecting to conclude its tests by mid-April, at which point it will still need to wait until May 4 for the lunar lander's launch window.
Pending the success of its first mission, ULA is hoping to schedule in another Vulcan launch this year for Sierra Space's Dream Chaser mission. The company needs to complete two Vulcan flights in order to get certified to launch U.S. military and intelligence satellites for the Space Force. ULA is under contract to deliver 35 missions for the U.S. Space Force in the next five years. Vulcan is also booked to launch more satellites for Amazon's Kuiper project.
"We have to ramp up," Bruno told reporters on Thursday. "Before the end of 2025 we expect to be really at a tempo, which is flying a couple of times a month, every two weeks."
More: Pressed for Time, Amazon May Turn to Its SpaceX Rival for Satellite Launches