A recently approved vaccine called Gardasil 9 protects against more strains of HPV and HPV-related cancers than any vaccine currently available. But who should get it? And how did it get so much better? Here's a complete rundown on the state of the art in HPV-cancer prevention.
Image Credit: Getty
In June 2006, the U.S. Food and Drug Administration approved the original version of Gardasil.
The vaccine, which is produced by Merck, protects against several types of human papillomavirus (HPV), the most prevalent sexually transmitted disease in the U.S. and around the world.
There are well over 100 different strains of HPV, more than 40 of which are spread via sexual contact, but the biggest offenders – from a cosmetic, economic, and public health standpoint – are HPV types 6 and 11 (which account for nearly all cases of genital warts); and 16 and 18 (which are implicated in an estimated 70% of cervical cancers and the majority of HPV-caused vaginal, penile, vulvar, and anal cancers). The version of Gardasil that won FDA-approval in 2006 was "quadrivalent," indicating it protected against four types of HPV. Which four? You guessed it: 6, 11, 16 and 18.
HPV vaccines can only protect someone from virus types that they are not currently infected with. For this reason, these vaccines are most effective when they are administered before a person becomes sexually active. This is why the vaccine is primarily recommended for younger people (though the vaccine can protect from future infection by other virus types that a person is not presently carrying).
G/O Media may get a commission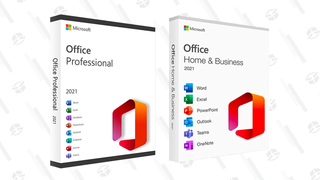 89% off
Microsoft Office Professional 2021 Lifetime License
As its name suggests, the improved vaccine boosts the number of strains against which the original Gardasil protects to nine, adding HPV types 31, 33, 45, 52 and 58 (which cause an estimated 20 percent of cervical cancers) to the existing list of inoculable strains. The improved vaccine, in other words, significantly broadens Gardasil's defensive scope against HPV-related cancers. As the FDA put it: "Gardasil 9 has the potential to prevent approximately 90 percent of cervical, vulvar, vaginal and anal cancers, up from about 70 percent protection with the current vaccine.
Gardasil 9's approval means there will soon be three HPV vaccine options available in the United States.
They include: The original, quadrivalent Gardasil; the bivalent Cervarix (which is manufactured by GlaxoSmithKline and protects against infection from the cervical-cancer-causing HPV-16 and -18 only); and the new, 9-valent Gardasil 9. Gardasil 9 is approved for use in females ages 9 to 26 and males ages 9 to 15 (University of North Carolina at Chapel Hill's Noel Brewer, who has conducted research for Merch, anticipates the vaccine will be approved for males 16 and up within the year), and is slated to become widely available in the coming months. Until it does, consider receiving Gardasil or Cervarix as recommended by the CDC.
In a study published February 19th, 2015 in the New England Journal of Medicine, Gardasil 9 was found to provide greater cancer protection than the original Gardasil.
The randomized, international, double-blind clinical trial was funded by Merck, and monitored more than 14,000 women between 16 and 26 years of age over the course of four and a half years. Test subjects received either Gardasil 9 or the original quadrivalent Gardasil (comparing Gardasil 9 with placebo would be considered unethical, given that Gardasil is already so widely and unambiguously recommended), in a series of three intramuscular injections.
As expected, Gardasil 9 was found to work as well as the original vaccine at preventing infections caused by HPV-16 and -18; in addition, the new formulation had an efficacy of nearly 97% against high-grade cervical, vulvar, and vaginal diseases tied to HPV-31, -33, -45, -52, and -58. According to the study, Gardasil 9 therefore protects against 85–90% of HPV-related cancers.
Women in both groups were equally likely to experience headaches, fever, nausea, dizziness and fatigue, but Gardasil 9 was associated with more side effects, with 91% of women reporting pain, swelling, and related skin irritation at the injection site. Most of these side effects were classified as mild or moderate, but Gardasil 9 was more likely to cause problems designated "severe." According to the researchers, increased number and severity of side effects were expected, given that the new vaccine contains more viruslike antigens. Notably, Gardasil 9's side effects were not comparably dangerous to the cancers that are preventable by the vaccine.
In an editorial published alongside the study, Anne Schuchat, director of the CDC's National Center of Immunization and Respiratory Diseases, called the investigation "a milestone in expanding the coverage of cancers associated with the human papillomavirus."
Males and females should both be vaccinated.
The NEJM clinical trial reflects the approach of public health officials to HPV vaccination, which has, historically, been largely female-centric. But HPV cancers in men are on the rise – an observation that has led many experts to conclude that "a gender-neutral, or male-centric approach might be more effective.
Scientific American's Robin Lloyd provides some context:
Ohio State University medical oncologist and epidemiologist Maura Gillison has studied men with oropharyngeal cancer in three different decades. She and other colleagues first noticed an odd shift in patient profiles in the late 1990s: younger men were showing up in her clinic, often with no significant history of smoking or heavy drinking, which are risk factors for head and neck cancers. She later found that whereas from 1984 to 1989 in the U.S. only 16 percent of oropharyngeal cancers tested positive for HPV, by 2005 that figure had skyrocketed to 73 percent. By 2020 experts project that such cancer diagnoses will exceed those for cervical cancer in the U.S., shifting the burden of HPV-associated cancers from women to men. Gillison reported these findings in October 2014 at the annual ScienceWriters meeting.
The CDC has taken steps in recent years to promote a more gender-neutral approach to HPV vaccination efforts. In 2011, the CDC voted to recommend that boys and young men should be vaccinated against the virus. The American Academy of Pediatrics agrees and recommends that all adolescents, male and female, should receive the vaccine beginning at age 11 or 12. In the last decade, these institutions have jointly recommended just two other vaccines, namely meningococcal and Tdap.
Rates of HPV vaccination in the United States are discouragingly low.
In 2013, the CDC reported that only one-third of girls aged 13–17 had received the full schedule of HPV vaccine, which, like the hepatitis B vaccine, is delivered by a course of three injections. (A handful of recent studies have suggested that a two-dose schedule may be as effective as a three-dose series – an attractive alternative for many reasons outlined in this CDC presentation. Pending additional evidence, however, the CDC, the AAP, and the WHO continue to recommend the three dose schedule.) Compare that to Australia and the UK, where HPV vaccinations rates approach twice those of the U.S. – or Rwanda, where more than 80% of teen girls receive the entire series. At the time, CDC director Tom Frieden expressed his concern over the vaccine's poor uptake:
Our low vaccination rates represent 50,000 preventable tragedies – 50,000 girls alive today will develop cervical cancer over their lifetime that would have been prevented if we reach 80 percent vaccination rates.
In July 2014, the CDC reported the most recent results of its teen immunization survey. The numbers were discouraging. Fewer than 60% of girls had started the HPV vaccination series. Only 38% had finished it. The numbers for boys were markedly worse.
"It's frustrating to report almost the same HPV vaccination coverage levels among girls for another year," said the CDC's Anne Schuchat in a statement. These numbers are, to quote the CDC's report, "unacceptably low." By comparison, the survey indicates that roughly 80% of adolescents receive the meningococcal and Tdap vaccines.
Poor vaccination uptake is likely tied to unsubstantiated fears.
The anti-vaccination movement has proven itself to be harmful to public health. Meanwhile, botched reporting has only helped stoke parents' fears. The most recent instance of shoddy health coverage was an HPV article published February 5 by the Toronto Star, Canada's largest newspaper, with the headline "A wonder drug's dark side."
The "exposé" claimed to probe the dangerous side of Gardasil through the personal stories of several young women who had fallen ill some time after receiving the vaccine. The story amounted to a mishmash of unsubstantiated, improperly, and insufficiently vetted anecdotes that was light on credible evidence and heavy on false equivalence. A week later, the Toronto Star's public editor criticized the story in a scathing column, that in turn cited publisher John Cruickshank:
The Star now understands and takes seriously the concerns and criticism. As publisher John Cruickshank said in responding publicly on CBC Radio's As it Happens this week, "We failed in this case. We let down. And it was in the management in the story at the top. I take responsibility and we will focus on doing better in the future."
Fifteen days later, the article was removed from the Toronto Star's website. though the language of their retraction notice has been rightly criticized as mealy mouthed.