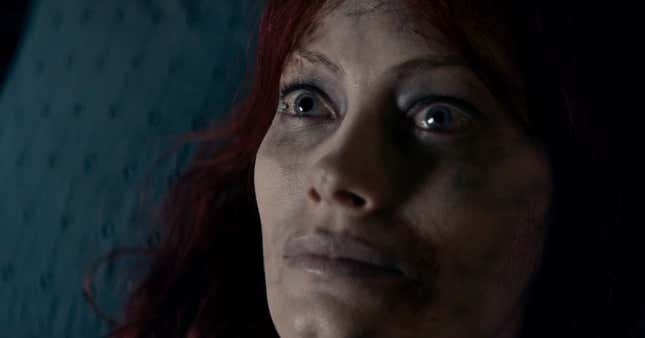 Evil Dead Rise has its world premiere tonight at the SXSW Film Festival before arriving in theaters in April. And while it won't feature Bruce Campbell's Ash Williams, Lee Cronin's film will include some other important series characters, like the Book of the Dead, and blood. Lots of blood.
Chris Pratt and Bryce Dallas Howard Nerd Out About Jurassic Park's Returning Heroes
And before you point out that blood is actually not a character, here's Cronin, speaking to Entertainment Weekly, explaining his point of view on the matter. "From very early on, I said, the blood is going to be a character in this movie, and I want it to be able to behave and flow the way I want it to move. I want it to rise a certain way; I want it to have a certain viscosity," he said; EW reports the movie went through around 6,500 liters (around 1,700 gallons) of the red stuff. "[It] was sticky-icky; if it got on your skin, you lost your hair. People were having to get hosed down every single day. I wanted to have the movie almost feel like a punk rock opera dripping in blood. That was what was in my mind a little bit, that it had a bit of attitude. And, you know, the blood's got to fall in an Evil Dead movie; there was no escaping that. That was one thing I could not dodge without letting the fans down."
Evil Dead Rise is set in Los Angeles apartment complex, which right away sets it apart from previous entries in the much-loved horror franchise. "Had they just handed me a script with a cabin in the woods, I probably would have said, I can't wait to see it in the cinema, but it's not for me," Cronin said. Fortunately, he was tapped to both direct and write the new film. "But they wanted something new ... they knew it was time for a different direction. Thankfully it all kind of came together."
The sheer amount of gore contributed to Evil Dead Rise being a physically exhausting movie to make. The film's young actors even had special training the director described as "boot camp"—how to fall, how to hold a shotgun, how to scream in sheer terror repeatedly—to prepare them for all the Deadite action they'd be facing on set. And it sounds like it paid off; Cronin says Campbell, along with original Evil Dead producer Robert Tapert and director Sam Raimi, gave their stamp of approval. "They [said], 'Hey, we really like the movie,'" Cronin said. "It's a real pleasure to see Sam watch something you do, and it makes him laugh or scream. That's a real joy."
Evil Dead Rise—a movie that apparently made Sam Raimi himself scream!—hits theaters April 21.
---
Want more io9 news? Check out when to expect the latest Marvel, Star Wars, and Star Trek releases, what's next for the DC Universe on film and TV, and everything you need to know about the future of Doctor Who.