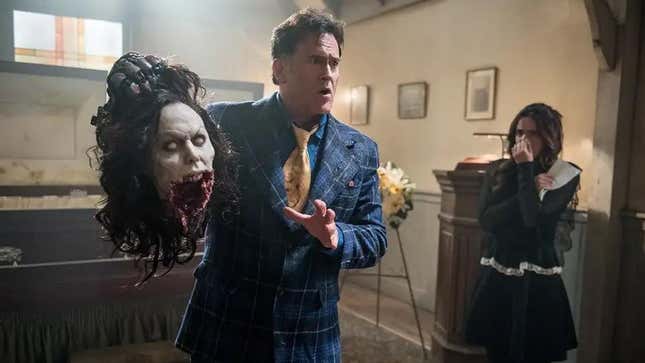 Evil Dead Rise is creeping out of the haunted basement and into theaters next month, but—much like the 2013 Evil Dead remake—it won't star Bruce Campbell as Ash Williams, instead pursuing a new continuation of the story. And while Campbell himself has said he's done playing Ash, Evil Dead director Sam Raimi just tossed a tiny speck of hope to splatter fans who dare to dream that isn't true.
Spoilers of the Week April 4-8
In an excerpt from a new interview with Empire, the director—whose most recent feature was last year's Marvel entry Doctor Strange in the Multiverse of Madness—explained that there were, at one time, plans to make good on Ash's cameo in the Evil Dead remake's end credits. "That character [in the reboot], Mia, was great, so I was very interested. We had been talking about an 'Evil Dead IV' for the other branch of that universe, and we were worried a little bit about a collision," he said, before name-dropping the series' much-loved Starz series, which ran from 2015-2018. "Ash vs. Evil Dead is what that morphed into. But I always thought there was room for both. I still think there's room for all sorts of Evil Dead movies. I don't think they cancel each other out."
The big draw for Raimi would be reuniting with Campbell and producer Rob Tapert—both of whom worked on Ash vs. Evil Dead—that a new project would entail. "I love working with Bruce and Rob. I love it as a producer because they're really good partners, but I also like being supported by them as the director," Raimi told the magazine. "So I hope that is on the cards eventually."
Raimi, Tapert, and Campbell are all executive producers on Evil Dead Rise, so it's not like those guys are strangers these days. And another project involving the trio wouldn't necessarily be another Evil Dead film; Raimi definitely kept that part of his answer vague enough to suggest as much. However, even without that Ash vs. Evil Dead series finale cliffhanger just hanging out waiting to be further explored—and beyond the fact that the show already did "Ash in middle age" to perfection—it would still be, ahem, groovy to see Campbell pick up the chainsaw again. What do you think of the idea? And will you be checking out Lee Cronin's Evil Dead Rise when it arrives April 21?
---
Want more io9 news? Check out when to expect the latest Marvel, Star Wars, and Star Trek releases, what's next for the DC Universe on film and TV, and everything you need to know about the future of Doctor Who.