British audio drama The Minister of Chance has been running for a good few years now - and the team behind it are looking to bring The Minister's adventures to film with a new kickstarter project starring the likes of Paul McGann, Sylvester McCoy and Julian Wadham.
The Minister of Chance itself has one of the most bizarre histories - the character and his fantasy world where science is outlawed were first introduced in Death Comes To Time, the first officially produced piece of Doctor Who media to be released by the BBC after the Paul McGann TV movie. Released as a 5-episode 'webcast' in 2001 starring Sylvester McCoy's Seventh Doctor and Stephen Fry as The Minister, the crazy story sought to act as an 'end' for Doctor Who as a whole, killing off the character in his seventh incarnation (despite the fact we'd already seen the Eighth!) and allowing The Minister to become a quasi-Doctor Who spinoff idea for the BBC to use in the future. Two years later, the BBC announced Doctor Who's return to TV, and the webcast was quickly obliterated from the series' canon, The Minister lost to time forever.
That is, until The Minister actually came back in his own podcast drama series, this time played by Julian Wadham and backed by an all star cast. The series has run intermittently since 2011 - and now, wants to adapt the universe into a film.
The kickstarter project is asking for £100,000 (roughly $160,000) to bring the series, as well as its cast, to a digital movie release, split into four parts - and they're already at £23,000 of that target since kicking off the project last Thursday. Pledges range from £10 for a mention in the credits as well as access to the completed film if the project is successful, to over £2,500 to get one of the character's costumes when filming's finished.
G/O Media may get a commission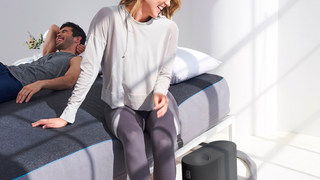 Eight Sleep Pod Cover
If you're interested in backing the Kickstarter, you can do so at the link below - or you can go to the Minister of Chance website and listen to the series so far for free.
---
You're reading Toybox, io9's new blog for all things pop culture. From merchandise to awesome fan creations, TV recaps and critical commentary on the hot topics of the day, you can find it all here!