Researchers from Sweden made headlines last week after claiming to have found the Arabic characters for "Allah" and "Ali" woven into Viking burial costumes. The discovery suggested a more intimate cultural relationship between the Vikings and the Arab world, but some experts are now questioning key assertions made by the Swedish researchers.
Before we delve into this latest scientific controversy, let's back up and do a quick review. Last week, reputable sources like The Guardian, The New York Times, National Geographic, and others, ran a story about new research claiming that the Arabic inscriptions for "Allah" and "Ali" were found on 10th century Viking funeral clothing. That's something that had never been discovered before.

The funeral items in question were uncovered north of Stockholm in the 1970s, but they weren't catalogued until fairly recently. Annika Larsson, a textile archaeologist at Uppsala University, decided to take a closer look at the inscriptions woven onto the funeral costumes, but was initially confused by the characters. Larsson then recalled similar designs seen in silk Spanish ribbons of Moorish design. "I understood it had to be a kind of Arabic character, not Nordic," she noted in the NYT. Accordingly, she believed she was looking at Kufic script, allowing her to identify the words "Allah" and "Ali."
Now, it's a well established fact that Vikings traded with the Arab world, and Arabic items, such as coins, are often found at Viking archaeological sites. But this discovery—the first time a historic item mentioning Ali has ever been found in Scandinavia—suggested these societies exchanged more than just material goods—it suggested they also exchanged cultural and religious ideas.
As noted, the story was picked up by various media outlets, but some experts, including Stephennie Mulder, an Associate Professor at the University of Texas at Austin's Department of Art and Art History, weren't buying it. Mulder's lengthy twitter thread from yesterday blasted both Larsson and a credulous, uncritical media for calling attention to the claim.
G/O Media may get a commission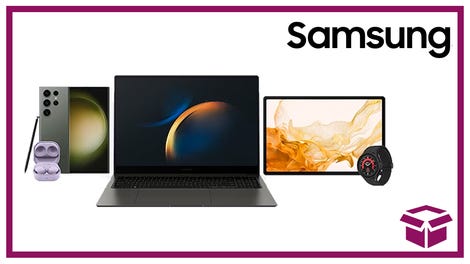 24 hour deals
Discover Samsung - Daily Deal
"There is something very troubling here about relationship between news media & experts, who should have been consulted for verification," wrote Mulder.
To be fair, both the BBC and The Guardian (two of the publications named by Mulder) did in fact reach out to outside experts who took issue with Larsson's work.
"The use of Ali does suggest a Shia connection," noted Amir De Martino, program leader of Islamic studies at the Islamic College in London, in the BBC. "But without the phrase 'waly Allah' accompanying the name—meaning 'friend of Allah'—this would not be from mainstream Shia culture and might just have been copied wrongly from something that was."
For its part, The Guardian, referenced a blog post by archaeologist Carolyn Priest-Dorman, who contended that the Viking burial site pre-dates the development of the Islamic artistic style cited by Larsson in her analysis.
But Mulder's criticisms of the work, as expressed in her tweets, were much more damning.

"As an Islamic art historian & archaeologist, I was immediately suspicious about style of Arabic epigraphy," said Mulder. "It's really so simple that I spent five days thinking, it couldn't be that Larsson would make so fundamental and obvious a mistake."

Similar to Priest-Dorman's complaint, Mulder argues that there's "a serious problem of dating" in which the style of the inscriptions cited by Larsson's drawings doesn't actually appear for another 500 years. Similarly, she says the Spanish items cited by Larsson—also with Arabic inscriptions—don't match up in terms of chronology. And very seriously, Mulder believes the inscriptions don't actually read "Allah."
She says the reason for the Arabic-like writing—if that's what it is—is that "Arabic [items] were valued by Vikings as social status/capital," and the literal meaning of the words weren't important. Lastly, Mulder says Larsson's interpretation was based on a convenient "extrapolation" of the characters, which in Mulder's opinion does not qualify as actual evidence. Quoting Priest-Dorman, Mulder says the text was based on "extensions of patterns, not on existing pattern."
As for the historical implications of the apparent find, there wasn't anything particularly earth-shattering about Larsson's claim, Mulder explained in an interview with Gizmodo. We've known for a long time that the Vikings had rich interactions with the Islamic world, and this should have been just one more story in that larger saga, she said.
In terms of where the media went wrong, Mulder says the press shouldn't rely on a single scholar's claim as truth, even when it comes from what appears to be a reputable source.
"This is particularly true for self-reported finds like this one that have not been subjected to peer review," she said. "Fact check. Call an expert in medieval textiles or Arabic script to confirm. If the research is new, seems to overturn previous points of view, or seems shocking, it should be fact checked even more rigorously."
Nevertheless, Larsson is standing by her claims.
"The scripts on the ribbons are like secret messages," she told Gizmodo. "First I thought they were copied by someone who didn't understand the message. But the patterns in the ribbons are like a puzzle or a rebus to read. I have spoken to Muslims that tell me that even today sometimes you don't want to say/write/depict...God's name [clearly], so then you can make it like a puzzle, and even mirror it. I think that is what [the Vikings] have done on these ribbons."
DNA analysis is being done on the human skeletons found in these graves in hopes of finding more clues as to what the beguiling symbols are all about. Larsson says the whole meaning of research is to open new questions as a way to get new answers.
"Sometimes the new answers do not fit with earlier interpretation," Larsson told Gizmodo. "This is the whole point with academic research. We all have to accept that perspective and perceptions may change over time or may even differ in different scholars. That's what make research both important and necessary."