Check out the gigantic volume of photos now stored in Facebook compared to Flickr, the Library of Congress and Instagram. I knew they were big, but I never imagined the difference could be so huge. 140 billion photos! It defies belief.
It's 10,000 times larger than the photo catalog in the Library of Congress! And Flickr, which I erroneously thought would be larger than anything else, is just a tiny fraction of Facebook.
Digital cameras are now ubiquitous – it is estimated that 2.5 billion people in the world today have a digital camera. If the average person snaps 150 photos this year that would be a staggering 375 billion photos. That might sound implausible but this year people will upload over 70 billion photos to Facebook, suggesting around 20% of all photos this year will end up there. Already Facebook's photo collection has a staggering 140 billion photos, that's over 10,000 times larger than the Library of Congress.
According to 1000memories, so far humanity has taken 3.5 trillion. Right now, "every 2 minutes today we snap as many photos as the whole of humanity took in the 1800s."
Maybe someday someone would do something incredibly useful with them, like monitoring the state of mind of the whole planet by analyzing the expressions and landscapes of all these photos.
G/O Media may get a commission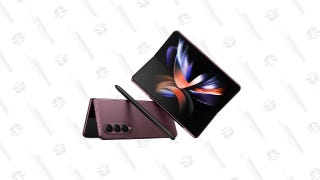 Save Up to $300
Galaxy Z Fold4
It's sad to see the demise of analog photos—and surprising that there were still four billion taken in the last year alone. [1000memories]