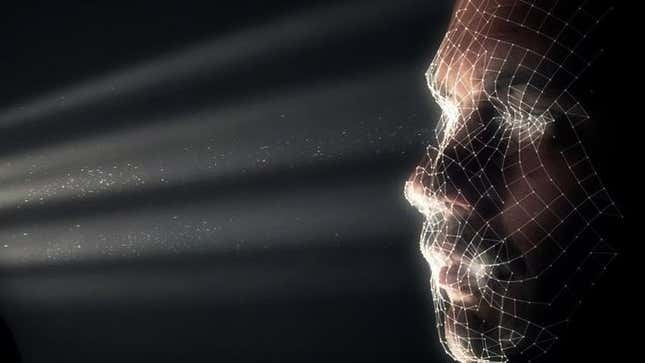 Randall Reid says he's never even been to Louisiana, much less stolen $10,000 worth of Chanel and Louis Vuitton handbags there. That didn't stop police from arresting the 28-year-old Georgia resident for the theft, committed in a New Orleans suburb, based on an algorithmic guess at what his face looked like. Reid was on the way to a belated Thanksgiving dinner with his mother when the cops picked him up, three states and seven hours away from the scene of the crime. He was locked up for nearly a week.

Disney World's Tron Coaster Is a Must-Ride Experience
A facial recognition tool identified Reid as a suspect in the theft of the luxury purses, and that was all the cops needed to put him in jail, according to the New Orleans Advocate. According to Reid's lawyer Tommy Calogero, he's a good 40 pounds lighter than the criminal in the surveillance tape. Law enforcement let him go and admitted the false match "tacitly," Calogero said.
"I think they realized they went out on a limb making an arrest based on a face," Calogero told the Advocate.t
Facial recognition, though useful, is far from perfect. Numerous studies show the technology is especially inaccurate when identifying people of color and women compared to identifications of white men. Some law enforcement officials regularly acknowledge this fact, saying facial recognition is only suitable to generate leads and should never be used as the sole basis for arrest warrants. But there are very few rules governing the technology. Cops often ignore that advice and take face recognition at face value.
Reid is only the latest seemingly innocent Black man to wind up in jail as a result of facial recognition's errors. The technology has led to at least three wrongful arrests, and using facial recognition as the only justification to put suspects behind bars is a troubling and growing trend, according to Clare Garvie, training resource counsel with the National Association of Criminal Defense Lawyers.

"Facial recognition offers the promise of accurate and speedy identification in circumstances where law enforcement might not have other ways to identify suspects, but that assumption has never been tested or confirmed," Garvie said. "When law enforcement officials use the technology as the sole basis for arrests, they are relying on unproven methods."

Our world is absolutely saturated with facial recognition technology and other biometric sensors. But we don't know how these tools are used, or under what circumstances. Last year, 13 out of 14 federal government agencies told Congress they have no idea how often they use facial recognition technology, or even which of their employees have access to it.

This time last year, it seemed like there was a growing movement to ban law enforcement's use of technology, with legislatures across the country instituting a facial recognition prohibition for their police forces. But that movement lost steam, and a number of states and cities quietly undid their face recognition bans, including California, Virginia, and—you guessed it—New Orleans.
New Orleans—which borders Metairie, LA, where Reid was accused of theft—has rules about how police use facial recognition. By law, all possible matches have to go through peer review by other facial recognition investigators, and police policy says the tech should only be used to generate leads. But in Metairie, the rest of Louisiana, and most of the country, law enforcement officials can use facial recognition without restriction. In most cases, prosecutors don't even have to disclose that facial recognition was involved in investigations when suspects make it to court.

That violates defendants constitutional rights, Garvie maintains. The so-called Brady Rule requires that prosecutors disclose evidence that could held a defendant's case. Because facial recognition is so inaccurate, Garvie said that should apply whenever the technology is used. But so far, the court system hasn't adopted that logic.
Law enforcement agencies' use of facial recognition goes back 20 years. We have no idea how many people are in prison thanks to the flawed technology, experts told Gizmodo.

"Unfortunately, Randall Reid will not be the last person falsely arrested due police use of facial recognition technology," said Evan Selinger, scholar-in-residence at Surveillance Technology Oversight Project. "When there's a political need to be seen as committed to decisive action, high-tech options—even deeply flawed and highly controversial ones—can have good short-term optics."
The Baton Rouge Police Department, which issued the warrant for his arrest, has been tight-lipped about the case. According to the Advocate, the department denied a formal request for the arrest warrant and hasn't disclosed details about its facial recognition policies.
For the better part of a century, an untold number of people were convicted of crimes using bogus forensic science like bite mark analysis and hair analysis. With facial recognition, it seems we may be heading down the same path: the US is waiting for case law to determine how cops should and shouldn't use facial recognition technology. That means innocent people will go to jail for crimes they didn't commit while we sit and watch them fight their way through the court system.