So much news passes before our collective eyes every day that we couldn't possibly cover it all. Mostly because much of it isn't worth covering! But here are a some borderline tidbits we passed on, just in case.
Klipsch Opens Pre-Orders for Android-Friendly Ear Buds
The Klipsch S4As look awfully familiar. Where on earth have I... oh! Oh, yes. Right. They're the exact same as the Klipsch S4is from a couple of years ago, just compatible with Android devices. Which, you know, fine. Sort of the exact definition of news you care about just enough to dump in here. [Klipsch]
G/O Media may get a commission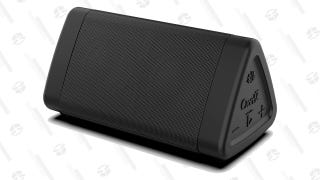 Save 31%
Oontz Angle 3 Portable Bluetooth Speaker
Facebook Pays $40,000 to Hackers for Finding Security Holes
Facebook has been handing out reward money like crazy to hackers who've discovered holes in the social network's security. But what about all the holes I found in The Social Network's plot?! [IDG]
Airline Twitter Support Is Better Than You'd Expect
Did you know that the poor soul who mans Delta's customer service Twitter account actually responded to every single tweet sent his or her way during Irene? My goodness, it's a wonder they made it through without bashing their brains open on their keyboards, much less actually get back to everyone. American Air, by contrast, responded to zero tweets, which is both more dickish and more understandable.
---
Left Behind is our daily collection of chaff things we didn't think was quite good enough to post on its own, and why.