We may earn a commission from links on this page.
Behold the very first footage from Marvel's inaugural Netflix series Daredevil! Take a look at the dark, gritty world Matt Murdock/Daredevil is going to have to clean up, one punch at a time. Plus, a few glimpses of the Kingpin!
Recent Video
This browser does not support the video element.
Look at all that blood! This might be the bloodiest Marvel trailer to date. Boardwalk Empire's Charlie Cox plays Murdock, blind lawyer by day, badass vigilante by night. And Vincent D'Onofrio is the nefarious villain Wilson Fisk (the Kingpin). The series a pretty dark vibe to it but Cox manages to keep things light, at least during the day. And D'Onofrio keeps things insane. Just about everything we've seen for this series we've really enjoyed (thus far) — we cannot wait for the series to finally premiere on Netflix on April 10th.
G/O Media may get a commission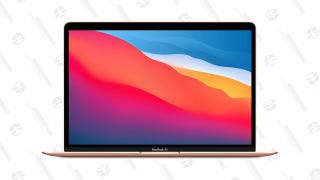 20% off
Apple MacBook Air Laptop