Ditching Star Wars for fairy tales, the D23 live-action panel just wrapped up without saying a damn thing about Episode 7. Which, wow. Sorry if you were looking forward to that. But on the plus side, the very first footage from the live-action Cinderella and Maleficent were screened, and they sound fantastic. Plus Damon Lindelof and Brad Bird showed up to tell everyone they're not going to tell you a thing about Tomorrowland. Good idea!
Maleficent
The first ever footage of Maleficent screened at D23, which Peter Sciretta of Slashfilm described quite highly: "Really looks like a Disney fairytale come to life. Good stuff." Then the lady of the hour, Angelina Jolie, appeared to a standing ovation and talked about how bad-ass Maleficent's horns are. GOOD.
More importantly, the official Maleficent synopsis was released, which reveals a bit as to why this awesome villain decided to go green and ruin princess Aurora's life:
"Maleficent" is the untold story of Disney's most iconic villain from the 1959 classic "Sleeping Beauty." A beautiful, pure-hearted young woman, Maleficent has an idyllic life growing up in a peaceable forest kingdom, until one day when an invading army threatens the harmony of the land. Maleficent rises to be the land's fiercest protector, but she ultimately suffers a ruthless betrayal—an act that begins to turn her pure heart to stone. Bent on revenge, Maleficent faces an epic battle with the invading king's successor and, as a result, places a curse upon his newborn infant Aurora. As the child grows, Maleficent realizes that Aurora holds the key to peace in the kingdom—and perhaps to Maleficent's true happiness as well.
G/O Media may get a commission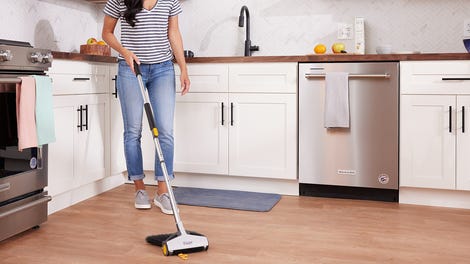 BOGO 50% Off
Flippr - BOGO 50% Off
Cinderella
Next up is Kenneth Branagh's Cinderella. A short pre-production sizzle reel was screened, which is impossible to judge. But people were very, very jazzed to see Cate Blanchett as the evil stepmother—and less than thrilled about Helena Bonham Carter as the fairy godmother (we remain excited). The biggest bit of news is simply that Branagh is sticking to the Cinderella script. So no need to worry about Leonardo Da Vinci showing up Ever After-style.

Tomorrowland
Looks like Damon Lindelof has been teaching Brad Bird how to stand in front of a giant audience and say absolutely nothing, because according to the Tomorrowland reports, no one actually explained what this movie is going to be about. Even the press release Disney issued described their presentation as:
Sean Bailey and filmmakers Brad Bird and Damon Lindelof talked about the inspiration of the secrets of the black box, which was featured in a short behind-the-scenes piece screened for the audience about the visionary Walt Disney. Although the audience was buzzing with questions, Bailey remained coy, but then announced a special, surprise "Tomorrowland" exhibit opening in the afternoon on the D23 floor that would reveal the contents of the box and more.
So we still don't official know what Tomorrowland is about. We have ideas, but no actual plot. Instead, the movie makers showed off some of the contents inside their mystery box including blueprints for a secret space in the "It's a Small World ride" that are only viewable by black light. If you want to know more, there's a Tomorrowland App you can download that goes through what was allegedly inside the box. It's all viral marketing, again no plot. In the app is a rundown on the "Disney Morgue" where the box was found, a trylosphere, an Amazing Stories book, and pictures of Walt Disney and Amelia Earhart (which are forged). And a secret behind-the-scenes reel.
Eric Vespe of Ain't it Cool News described the behind-the-scenes reel as a bit of lost animation pulled from a flawed disc (that was allegedly found in the box). So no actual footage, but the clip suggested that a secret scientist society (including Edison and Tesla) was trying to elevate humanity to the next level or something.
Saving Mr. Banks
Saving Mr. Banks showed a bit of footage. Everyone called it sweet and heartwarming, tipped their hats, and said "Seriously no Star Wars news?" But all that fuss was quickly swept under the magic carpet when BJ Novak and Jason Schwartzman joined original song writer Richard Sherman on stage to sing "Let's Go Fly A Kite."
Image via DeeMagicGurl.