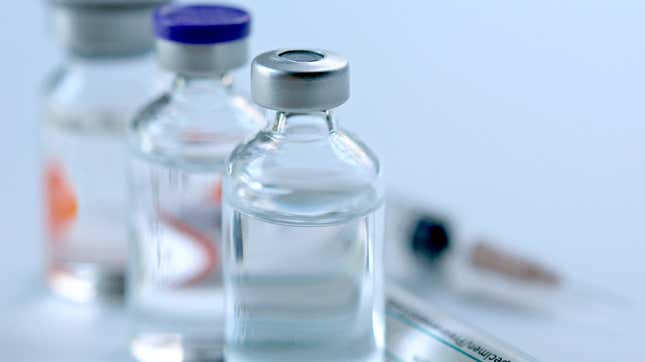 The world's first vaccine for respiratory syncytial virus (RSV) has just been approved by the Food and Drug Administration. The vaccine is called Arexvy and was developed by GlaxoSmithKline. It will be approved to prevent lower respiratory tract disease from the infection in those over age 60.
Lions on Oxytocin are Surprisingly Chill
RSV is a ubiquitous source of respiratory illness. Most of the time, the infection presents as a common cold. But the virus can reach the lower respiratory tract and cause more severe complications such as pneumonia and bronchiolitis (swelling of the small airway passages in the lungs). These complications can be life-threatening and are more likely to occur in very young children and older adults, making RSV a serious public health problem. Somewhere between 60,000 to 160,000 Americans over 65 are estimated to be hospitalized by RSV every year, according to the Centers for Disease Control and Prevention, while up to 10,000 may die from it.
Scientists have been trying to develop a RSV vaccine for over 50 years, but it's only recently that these efforts have finally looked promising.
In the major randomized, placebo-controlled clinical trial that secured Arexvy's approval, it appeared to substantially reduce people's risk of lower respiratory tract disease from RSV. The trial involved more than 24,000 people over 60, half of whom were given a single dose of the vaccine. Compared to controls, those given Arexvy were 82.6% less likely to develop lower respiratory tract disease linked to RSV and 94% less likely to develop severe RSV-linked lower respiratory tract disease.
"Today's approval of the first RSV vaccine is an important public health achievement to prevent a disease which can be life-threatening and reflects the FDA's continued commitment to facilitating the development of safe and effective vaccines for use in the United States," said Peter Marks, director of the FDA's Center for Biologics Evaluation and Research, in a statement from the agency.
There are still some important questions left regarding Arexvy. It's not clear yet how long the protection granted by the vaccine will last. The clinical trial results so far have only looked at a single season of RSV, which typically runs from the fall to winter in the U.S. But the trial is still ongoing, and volunteers are expected to be tracked through three RSV seasons in total.
The most common adverse effects linked to the vaccine were mild to moderate and included injection site pain, fatigue, muscle pain, headache, and joint stiffness/pain. But Arexvy might also pose a risk of serious, if rare, side effects as well.
In one smaller study, which had some people also take an approved flu vaccine at the same time, two people who took the vaccine combination developed acute disseminated encephalomyelitis (ADEM), a type of inflammation that affects the brain and spinal cord; one died afterward. In another small study, one person taking Arexvy developed Guillain-Barré syndrome, a condition where the immune system attacks nerve cells, causing muscle weakness and sometimes paralysis. Ten people in the larger trial also developed atrial fibrillation, or an irregular heartbeat, after vaccination, compared to four in the placebo group.
Certain vaccines are thought to pose a very small risk of causing Guillain-Barré, though the risk is often lower than it would be from naturally catching the target germ, as is the case with influenza vaccination. At this point, though, it's still not established whether Arexvy can cause Guillain-Barré or ADEM. The FDA is mandating that GlaxoSmithKline conduct postmarket safety studies to assess these potential risks, and the company has pledged that it will also track the potential risk of atrial fibrillation as well.
While GSK's RSV vaccine is the first to reach the public, it's unlikely to be the last. Moderna's RSV vaccine for older adults has yielded similarly promising Phase III results, as has Pfizer's version. Pfizer is also likely to win approval for its maternal RSV vaccine, which vaccinates expectant mothers to pass along protection to their newborns through the first months of life. And there are expected to be vaccines for young children and antibody treatments meant to prevent severe RSV along the way as well.