A previously rumored Avengers: Age of Ultron co-star is confirmed. Paul Rudd's denying any knowledge of playing Ant-Man. Another Mark Millar comic could be coming to the big screen. There are new images from Amazing Spider-Man 2 and Helix. Plus, how soon will Indiana Jones 5 be arriving?
Top image: Game of Thrones
Avengers: Age of Ultron
Added to the cast of the next Avengers movie is Don Cheadle, who told USA Today that he was preparing for a role in the sequel, confirming the rumor from a few days ago. It makes sense, actually. James Rhodes has partnered with the Avengers in the comics, and Iron Man 3 seemed to take Tony Stark out of the armor. So replacing Iron Man with War Machine/Iron Patriot, at least for part of the sequel, works. [USA Today via Indiewire]
---
Ant-Man
Paul Rudd's denying the Ant-Man casting rumors, telling AbsoluteRadio:
Oh, that's all rumor, man. There's nothing I know, sorry.
That doesn't rule out that the studio's thinking about him, mind, just that he doesn't know anything for sure. [Indiewire]
G/O Media may get a commission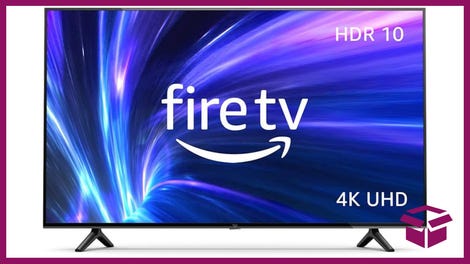 42% Off
Amazon Fire TV 50" 4K Smart TV
---
Star Wars: Episode VII
Alan Horn, Chairman of Disney, confirmed that they still don't have a script. They expect to see one in January and are ballparking $200 million for a budget. [Slashfilm]
---
Indiana Jones 5
At the same event, Horn also said that they "need a story" before they can get started, but he guesses it'll be two to three years before we see another Indy movie. [Slashfilm]
---
Avatar
The next three Avatar movies will be filmed in New Zealand, "spending $413 million on live action and visual effects." The first movie was partially made there. [Saultstar]
---
Starlight
20th Century Fox is in discussions to adapt for film Mark Millar's upcoming comic, Starlight. If the deal go through, the movie will be produced by Simon Kinberg, who worked on X-Men: First Class and X-Men: Days of Future Past. The comic, due out in March, will follow a hero who saved the galaxy, but wasn't believed when he returned to Earth. He settled down, married, had kids, and aged, but goes on one last adventure when his old rocket shows up. [The Hollywood Reporter]
---
Amazing Spider-Man 2
Below is the new still that Sony's released through the fan community, The Amazing Spider-Fans. [Coming Soon]
---
Pan
Joe Wright's take on Peter Pan has been set for release on June 25, 2015 by Warner Brothers. [Coming Soon]
---
Game of Thrones
It's just five seconds, but it's pretty revealing — here's our first footage from season four, via HBO's year-ending promo. In particular, note Tyrion in chains under guard, Sansa looking happy, a mysterious book, and King Joffrey looking worried. Plus who is that riding a horse towards a cliff face? [Seriable]
The 5 second Game of Thrones season 4 clip from HBO's End of Year promo(720p_H.264-AAC)
And here are some low-res screencaps. [Winter is Coming via SpoilerTV]
---
The Vampire Diaries
Executive producer Caroline Dries says that the ramifications of Damon and Elena's breakup will be picked up almost instantly, as the show's 100th episode will take place on the same day. As to whether or not there's still a chance for couple, Dries had this to say:
So all hope is not yet lost for Damon and Elena?
Yeah, no. They just had a big blowout fight/break-up. But we have to see going forward, the next time they're in the same room together, how they deal with it
She also gave a bit more detail about the 100th episode, saying:
The 100th episode is Katherine on her death bed. She doesn't have a huge fanbase at the Salvatore house where she is, so Stefan is the person who's there for her. But when you're dying, romance isn't exactly on the front burner.
Dries concluded by saying that Enzo will play a role in the season going forward, and describing his role thusly:
Enzo and Damon have a very complicated relationship. He's holding a grudge [against Damon]. But at the same time, he also admitted he has no friends. [Laughs] He and Damon went through this horrible, trying time together. If you think about the way soldiers bond over trauma, that's kind of what they went through. So it's not as simple as saying they're enemies or they're friends. They're a mixture of good and bad.
[TV Line]
Here's a promo for episode 5.11, "500 Years of Solitude." [via SpoilerTV]
---
American Horror Story
According to Gabourey Sidibe, upcoming episodes will have all of the witches, including the Angela Bassett's Laveau, the voodoo queen. Sidibe says:
One thing I can say is that you will see all of us under one roof again.
---
Once Upon a Time
Even after last night's mid-season finale, Robbie Kay (Peter Pan) says that there's going to be development between Rumpel and his father:
You are going to see a change in the relationship in the mid-season finale. So they will touch upon that and it will be very interesting to see where they go from there in terms of their relationship as the season progresses.
---
Helix
Here's a new poster for the Syfy series. [Sci Fi Now]
---
Additional reporting by Charlie Jane Anders and Jason Krell