Not even a week has passed since Hurricane Michael made landfall in the Florida Panhandle as a Category 4 storm, obliterating much of the infrastructure in its path. Despite the fair warning before impact, the state Department of Corrections failed to evacuate most of its prison facilities.
Now that the storm's rolled through and road access has allowed the state to assess the damage Michael inflicted, the Department of Corrections announced Sunday and Monday it was evacuating a total of more than 4,000 inmates from three facilities in northern Florida. The state hasn't clarified the conditions of specific facilities, but its press releases note that all of the facilities "sustained significant damage to roofs and security infrastructure."
Including the 850 inmates evacuated before the storm, nine prisons have now had their nearly 5,000 inmates moved out of harm's way. 
The state told Earther that other facilities in the area suffered minor damage, none of which has impacted housing or security, and that all incarcerated people have had access to meals and drinking water.
None of this, however, is enough to quell the fears and concerns family members have for their loved ones who are incarcerated in the state. Deandra Cram, 52, has a 22-year-old son doing time at the Apalachee Correctional Institution, West Unit in Sneads, Florida, which wasn't evacuated though it sat in the storm's path. Cram told Earther she's been in touch with her son over the phone and he alleges the state isn't feeding inmates or providing them with safe drinking water. She's worried the conditions he describes will fuel a riot.
G/O Media may get a commission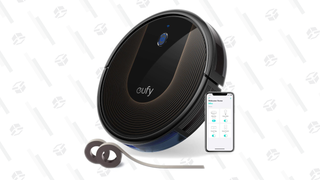 48% Off
Eufy BoostIQ RoboVac
When asked for comment on these allegations, a spokesperson for the Department of Corrections emphasized that all inmates "continue to have access to food and water" and referred us to the state's most recent press release for additional information.
"I've been through Hurricane Irma, and they told me to 'evacuate or else,'" Cram told Earther. "I feel like their [my son's] rights have been violated by not having that same opportunity."

Theresa Guarino-Cruz, 49, isn't lucky enough to be in communication with her 29-year-old son, who is located at the Northwest Florida Reception Center in Chipley, another prison that was not evacuated but sat closer to the edge of the hurricane's path. Her son used to call about every day to speak to his son, Guarino-Cruz's grandson. Now, she has to face a questioning 7-year-old who doesn't understand why daddy won't call.
Colleen Millett, 51, also has a son at this facility. She got in touch with her 27-year-old son a day before the hurricane hit. He told her both sides of his dorm had been boarded up, but there's been no news since the storm. She hates the uncertainty, the wondering and worrying about how her son is doing.
"I feel that [the Florida Department of Corrections] failed me, my son, and every other inmate, their families, and staff members by choosing to not relocate them with the approaching hurricane that was notably increasing in strength and said to be of catastrophic intensity," Millett wrote to Earther in an email. " I am desperate for information on my son's well being as well as the conditions that he and so many others are living in."
Hurricanes spell health troubles even for those outside prison. The situation for those behind bars almost never looks better. And while some may scoff that these are lawbreakers who deserve what they got, they're still people—and the state is responsible for their welfare. Nobody deserves to suffer or die by a storm.