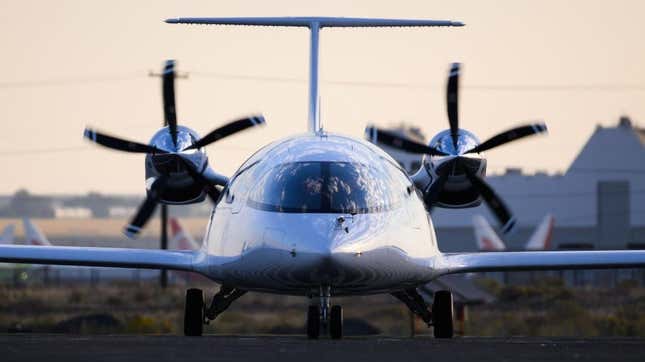 The global auto-making company Stellantis is breaking into the aviation industry after striking a deal with Archer Aviation, Inc. to build an electric flying taxi.
Stellantis is the maker Chrysler, Dodge, Jeep, Ram, and other well-known car brands, but will now provide Archer with up to $150 million in equity capital in 2023 and 2024, and has said it will work as the exclusive contract manufacturer for the company.
The deal was announced during CES in Las Vegas on Wednesday with the goal to begin manufacturing the vertical takeoff and landing aircraft, Midnight, at its Georgia production factory in 2024. The companies said in a press release that the aircraft will be "designed to be safe, sustainable, quiet, and … can carry four passengers plus a pilot."
Midnight will be designed to taxi passengers across short distances for trips extending to around 20 miles but will have a 100-mile range for back-to-back trips and the all-electric aircraft will require a charging time of about 10 minutes in between flights. Archer says Midnight will be designed to take off and land vertically, the same as a helicopter, and when it reaches flying altitude, it will transition forward as a normal plane.
"Stellantis' continued recognition of Archer's progress toward commercialization, and today's commitment of significant resources to build the Midnight aircraft with us places Archer in a strong position to be first to market," Archer founder and CEO Adam Goldstein said in the press release. "Our two companies are taking these important steps together to realize a once-in-a-generation opportunity to redefine urban transportation," he added.
Archer and Stellantis said in the press release that combining the efforts of both companies will help Archer "avoid hundreds of millions of dollars of spending" as they manufacture the taxiing aircraft over the next two years.
United Airlines Holdings, Inc. which is set to launch its own flying taxis, already agreed to pay $10 million to Archer for a 100-aircraft order in the fall of last year.
The U.S. Federal Aviation Administration is in the process of modifying its regulations including how the short-distance flying taxis will integrate into the airspace and is building pilot requirements and examining the planned aircraft. Goldstein has said he expects the company to be granted certification by the end of 2024 and plans to begin commercial operations afterward, according to the Wall Street Journal.
Archer first entered into an agreement with Stellantis back in 2021 allowing Archer to utilize Stellantis' supply chain and manufacturing expertise, but the announcement of Midnight takes the agreement one step further.

"We've been working closely with Archer for the past two years, and I am continually impressed by their ingenuity and unwavering commitment to deliver," said Carlos Tavares, Stellantis CEO in the press release.
He continued, "Deepening our partnership with Archer as a strategic investor with plans for growing our shareholding demonstrates how Stellantis is pushing the boundaries to provide sustainable freedom of mobility, from the road to the sky. Supporting Archer with our manufacturing expertise is another example of how Stellantis will lead the way the world moves."