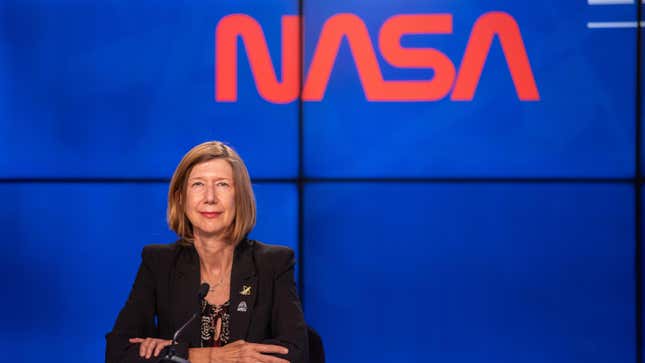 Following her retirement from NASA, Kathy Lueders may be joining the dark side of the spaceflight industry. SpaceX reportedly hired the former head of NASA's human spaceflight office in a move that could grant the company more capability— and credibility—ahead of its attempt to land astronauts on the Moon.
Astronomers Could Soon Get Warnings When SpaceX Satellites Threaten Their View
Lueders stepped down from her position as associate administrator of the Human Exploration and Operations (HEO) Mission Directorate in April. This week, CNBC reported that the former NASA chief will join SpaceX as a general manager, according to anonymous sources.
At SpaceX, Lueders will reportedly oversee the company's development of its Starship rocket, preparing it to carry a crew to the Moon's surface as early as 2025 for NASA's Artemis 3 mission. Based on the CNBC report, Lueders will work at SpaceX's Starbase facility in Boca Chica, Texas, and report directly to SpaceX president and COO Gwynne Shotwell.
During her time at NASA, Lueders worked closely with SpaceX as part of the company's Cargo and Crew Dragon missions to the International Space Station (ISS). She oversaw the development of NASA's ongoing partnership with SpaceX, through which the company has launched six crews to the space station thus far. Lueders is credited for being among the NASA officials who pushed for public-private contracts, shifting the space agency towards using commercial spacecraft to launch its astronauts; the move helped the space agency cut costs when it came to building and owning its own launch vehicles and spacecraft.
As a NASA official, Lueders also selected Starship for a $2.89 billion contract to use the megarocket in landing humans on the Moon for the Artemis 3 mission, and then again for Artemis 4 in 2028, under a separate $1.15 billion contract signed last year.
SpaceX has transported astronauts to the ISS and back, but carrying a crew of astronauts to land on the Moon is much more challenging. The company is relying on its Starship rocket, which has so far undergone one fully-integrated test flight that ended in an explosion. Following the rocket's disintegration in the skies, NASA Administrator Bill Nelson dismissed concerns regarding the SpaceX rocket, reassuring that Starship would be capable of delivering astronauts to the surface of the Moon in two years' time.
The Federal Aviation Administration has grounded Starship pending an ongoing investigation into its explosion and there is looming doubt surrounding SpaceX's ability to get its giant rocket off the ground again soon.
As it prepares its Starship rocket for the Moon, SpaceX's Lueders hire might be exactly what the company needs right now. Lueders had been with NASA for more than 30 years, accumulating a heap of experience in the spaceflight field. She will undoubtedly serve as the trusted source for spaceflight knowledge that SpaceX could use to help it gain more credibility with its government customers, including NASA. Her contributions could also boost the Starship program, but only time will tell.
SpaceX has scouted NASA officials before, namely Lueders' successor William Gerstenmaier, who served as the agency's associate administrator for Human Exploration and Operations between 2005 and 2019 before joining SpaceX in 2020, according to CNBC. Gerstenmaier is now the company's vice president of its Build and Flight Reliability organization.
Lueders joining the SpaceX team is definitely an asset to the company. Whether or not SpaceX will have its Starship rocket ready for liftoff to the Moon in a just a few years' time, that remains to be seen.
For more spaceflight in your life, follow us on Twitter and bookmark Gizmodo's dedicated Spaceflight page.