Few of us touch or even think about Scotch tape between holidays, birthdays, and whenever a gift needs to be wrapped. But some people deal with the sticky stuff all day long, so 3M enlisted designer Joongho Choi to help create a better tape dispenser, and the results are surprisingly impressive.
It's obvious that 3M didn't really give Choi limits on size, because the dispenser he designed is even bigger than the weighted monstrosities many people already have on their desks. But that extra girth is totally worth it because this redesigned dispenser automatically cuts perfectly proportioned pieces of tape with a simple turn of a wheel.
To keep fingers safe, the cutting blades are buried deep inside this dispenser, and there's no risk of the end of the Scotch tape disappearing back onto the roll, requiring you to find someone who doesn't bite their fingernails to get it started again. As the wheel on the side of the dispenser is turned, pieces of tape are automatically cut and dispensed on a spoked wheel so they're easy to grab.
G/O Media may get a commission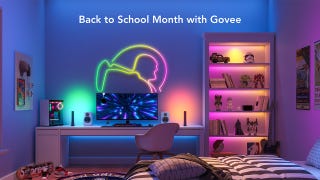 Back to School
Back to School Month with Govee Sale
The redesigned dispenser also looks like it can accommodate multiple rolls at the same time, if your segmented tape needs are so demanding. The only downside is that unlike the plastic dispenser that usually comes wrapped around a fresh roll of Scotch tape, there's no way this thing will be given away for free if 3M ever decides to make it available to consumers. [3M via designboom]