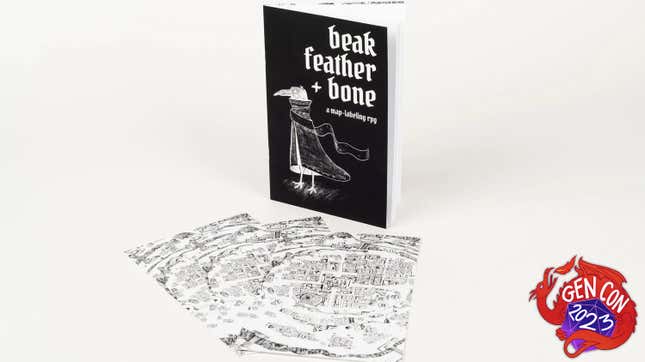 As a parliament of nerds (affectionate) walked up and down the lanes of Gen Con, the annual tabletop gaming convention in Indianapolis, there seemed to be a never-ending supply of new games to try—and independent outfits were giving con-goers a massive variety to choose from.
Gillian Jacobs Reacting to Her D&D Character Sheet From Community | io9 Interview
With releases like Pirate Borg, a carousing grimdark horror game set in the undead Caribbean, and the pastoral Wanderhome, a travelog about small animals attempting a journey together, indie games are in their golden age. Typically written by one person or a small team, indie games can be the size of a business card or a full 200-page book. And despite the sheer amount of games from big companies on offer, not just at Gen Con but in the market at large, independent games are thriving.
Gen Con spans a convention center and a football stadium, and hosts games and seminars in three adjacent hotels. This year, a record-breaking 80,000 people attended. And despite the demand for Disney's Lorcana and the multiple Dungeons & Dragons actual play performances, independent game designers still found that people were there just as much for their games too. io9 spoke to a handful of independent creators about their work and what Gen Con was like for them in 2023.
"As an indie creator, it's hard to sometimes go a long period of time without anyone engaging with the things you create," said Alex Sprague. He runs the booth for the Indie Game Developers Network, which showcases dozens of indie games from creators across the globe. "Seeing the enthusiasm for all the different things members of the IGDN make is fantastic. People come by and let us know that they bought X game from Y maker last year, [and ask if] they have anything new out. You start to realize people are actually engaging and playing the games we make."
Tyler Crumrine, who owns and operates Possible Worlds Games, agreed. "Many of our customers this year were already fans! I had a lot of people telling me they'd swept the booth last year and wanted to make sure they picked up anything new." Jay Dragon, part of Possum Creek Games, met with similar enthusiasm. "There were quite a few folks who told me that their chance to pick up Wanderhome last year was their first foray into TTRPG gaming, or that it was how they got their spouse or kids into gaming, which was really wonderful," he said.
Not only were people looking for the booths that sold the authors and products that they were familiar with, but many indie folks also said that they were able to bring on new customers on the basis of being unlike Dungeons & Dragons. "For the first con I have ever run, no one said to me 'So... it's kinda like D&D.' People were coming to the booth looking for the bizarre, the weird, and the new," explained Sprague. Crumrine had a funnier story about a D&D fan:"There's one dad who goes out of his way to loudly neg me at our booth each year claiming our games aren't 'real' RPGs, but his son loves our products, so I still get his money, which is nice."
Tony Vasinda of Plus One Exp said that "we had a ton of folks looking for their new or next favorite game. Folks who didn't realize there was more out there, and folks who came to the booth because they wanted weird and different stuff."
Besides the fact that people were actively looking for new games from creators whose work they enjoy, or finding the authors they recognize in person, even first-time vendors like Spencer Campbell of GilaRPGs had great success at Gen Con. This was his first time at this event and "compared to the other two cons I've been to, GenCon outsold them all… We made as much on day one of GenCon as we did all of Origins. Thursday was actually the biggest day, and Saturday was the slowest." People were really keen on Campbell's newest game, Hunt, which yours truly forgot to pick up as I was perusing the booth. "[Hunt's] cover grabbed people walking the aisle, and that was routinely the first one people grabbed. The next best was Rune. It seemed like people were looking for solo experiences, and something a bit crunchier than the journaling games they had experienced before. Slayers was third, as the D&D killer."
It's difficult, if not impossible, to draw conclusions about gaming trends from the best-sellers among these indie outfits. Crumrine's ENnie-winning map game Beak, Feather & Bone was the best-seller at his booth. IGDN's bestsellers included Shanty Hunters, following a group of anthropologists hoping to save shanties from extinction in the age of steam; Follow Me Down, a two-player retelling of Orpheus and Euridice; and MoonPunk, a political action game. Vasinda said that Himbos of Myth & Mettle and Butter Princess were the two games he told people they shouldn't "leave the booth without."
With such a massive demand for games, the respondents io9 spoke to said that they were "exhausted" after the con. Dragon was specifically frustrated by Gen Con's lax covid precautions—a problem experienced by attendees across different conventions, as organizers attempt to navigate vaccination and masking requirements. In Gen Con's case, that meant allowing people to be personally responsible for their health even in the midst of a resurgence of the virus. But overall, many of the folks interviewed said they were grateful, as the con was such a success.
Crumine said that in addition to being exhausted, he also felt renewed by getting a chance to meet so many people who were interested in his games. Vasinda summed it up well, saying he was "exhausted but filled. Part of my plan this time was intentional open time with friends… We got to talk life, theory, play, shop, do some magic eye and just be with each other. There are dozens of other folks that it was a blast to see even for a moment. My soul needed that contact with other folks. We also got to represent dozens of creators and talk about our plans to support dozens more in new ways in the coming year."
---
Want more io9 news? Check out when to expect the latest Marvel, Star Wars, and Star Trek releases, what's next for the DC Universe on film and TV, and everything you need to know about the future of Doctor Who.