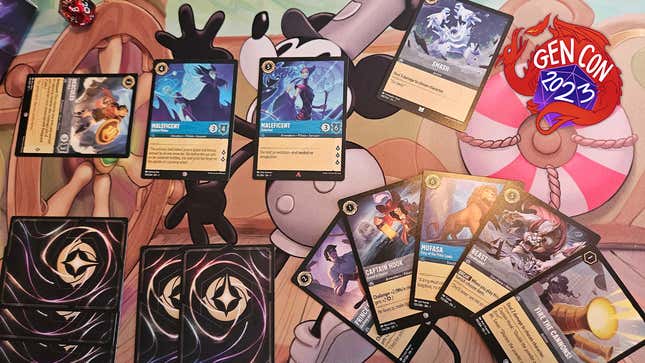 Disney's trading card game Lorcana  experienced a fan frenzy at last week's Gen Con—something that publishers Ravensburger were really not expecting. Drawing overnight lines and selling out of product every day, Lorcana was the game that everyone at the annual gaming convention was talking about. Some folks were in line just to scalp the cards, which release to the public in September, and some were in it for the Disney of it all—but most people were simply curious about the hot new game getting all this attention.

Watch the Trailer for Magic: The Gathering's New March of the Machine Set
I was given a chance to demo the game, but was specifically forbidden from asking too many questions of the demo'er, who was very nice and taught me and three others how to play the new TCG. Using glimmers—the in-universe name for the "fragments of Disney stories" illustrated the playing cards—Illumineers (players) race against other players to gather the scattered lore across the universe, called Lorcana.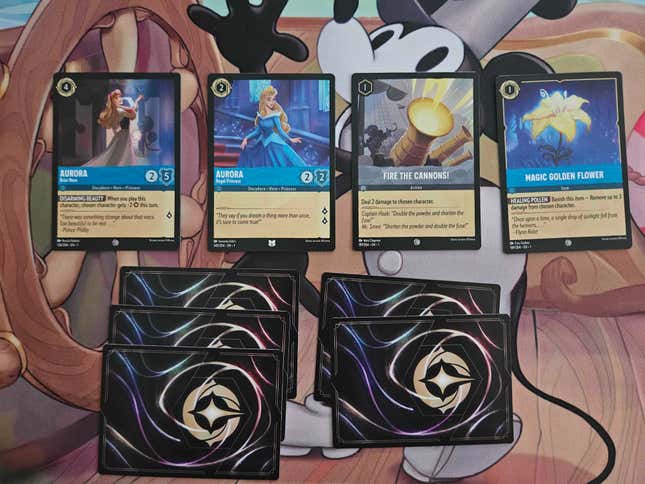 In more practical terms, here's how it works. Lorcana cards come in six colors: Sapphire (blue), Steel (gray), Ruby (red), Emerald (green), Amber (orange), and Amethyst (purple). Decks can be made up of any two colors, but the three pairings that make up the starter decks are Sapphire/Steel, Ruby/Emerald, and Amber/Amethyst. As you can see below I snagged a Sapphire/Steel deck, which has illustrations from a variety of Disney properties, including Cinderella, Peter Pan (the pirates!), Rapunzel, Sleeping Beauty, Beauty and the Beast, and Moana.
After creating a deck of Lorcana cards, two or more players (up to four) take turns drawing, playing cards, and taking actions. You start with a hand of seven cards. In order to play cards into the Lorcana, a player must first put cards into an inkwell—what is essentially an economy for the glimmers to appear in the Lorcana. The face-down cards in the above photo are in the inkwell. There are no specific economy/inkwell cards in the deck—instead, any cards with the inkwell symbol on the top left (a fractal hexagon fill of the ink cost) can be put into the inkwell. In the photo above, both "Aurora" cards and the item "Magic Golden Flower" can be "inked." Because "Fire the Cannons!" is a plain hexagon, it cannot be inked.

What this means is that often in the initial seven-card, hand players will "ink" high-cost cards first in order to get low-cost characters onto the playing field fast. (For example, in the starting hand above, you would probably want to ink "Mufasa," a six-ink-cost card, first.) You can only ink one card per turn. When a card is put onto the playing field, by using ink, its ink is not dry, and you cannot activate its powers immediately. The exceptions are when a card has a golden border, as seen on "Magic Golden Flower," and on action cards, like "One Jump Ahead," where the card text takes effect immediately.

Once your cards are on the table and the ink is dry (the turn after you play it), you can send your characters on a quest for Lore. As soon as you say your character is going on a quest, you gain that Lore and turn the card on its side, indicating it is "exerted." If you acquire 20 Lore you win immediately. If your card is exerted it becomes exposed to attack and can be "challenged" by another character on the other players' turn. You cannot respond to cards played on another player's turn, so there is no reason to reserve ink. Use as much as you can to get as many cards out as possible as fast as you can.
The game starts slow, as players typically figure the balance in between offense—getting other player's characters off the board, called "banishing" them—and defense, which typically means getting as much Lore as possible faster than the other players. I found this push and pull difficult to master, as the Sapphire/Steel deck is a hard-hitting fighter deck that relies on you controlling the board at the start (through quick action cards like "Fire The Cannons!") and then questing with big cards like "Simba" that have added Strength when exerted towards the midgame.
My tendency to fight first, quest second caused me to fall behind pretty fast. The Amber/Amethyst deck is much more quest-forward—it includes a mechanic called Evasive, which means that cards can only be challenged if the challenging character also has Evasive. I particularly enjoyed the "Dr. Facilier" Amethyst cards, which really allowed players to control their own deck. The Emerald/Ruby deck is tricky, and the hardest to master. It's considered the antagonist deck, with cards like "Aladdin, Heroic Outlaw," "Cruela De Vil, Miserable as Usual," and "Mad Hatter, Gracious Host" forcing your opponent to play against themselves.
My first impressions of the game were positive; it was easy to understand and I was quick on the uptake (sure, I lost every game I played, but that's typical for me and TCGs). I think the choice to have no reactions is an interesting one, as often in other TCGs, reactions allow people to turn the tide of a game fast. It's also a way for players to control the board directly. In Lorcana you have to wait for effects to trigger against your own cards to exert board control on other people's turns.

One frustration I can see because of this mechanical choice is that people will be able to see "win conditions" a few turns away. Because you gain Lore instantly, you can very easily go from 12 Lore to 20 and win, because you don't have to fight through other characters or players to gain Lore. But with action and item cards, there are ways to slow other players down while also sending your characters on quests themselves.
I wouldn't try to build decks based on specific franchises, as characters from various different movies appear across colors, and not in a huge quantity. The Little Mermaid, for example, is spread across Sapphire ("Ariel, Whoseit Collector"), Amethyst ("Ursula, Power Hungry"), and Amber ("Ariel, On Human Legs"). With the limited cards available—204 as of writing—there aren't a lot of 60-card decks that will work well. Right now Sapphire/Steel is the one that people are looking to as a powerhouse, but I'd be interested in seeing what an Amethyst/Emerald deck does—mega evasive, super deck control.
Lorcana is, honestly, a very cool little game that will challenge TCG fans to think differently about how they play. It's got a lot of strategy, even as the mechanics feel simple and intuitive. The Lorcana app is also very good, as it has a catalog of cards, allows for users to build a library of the cards they own, and provides a Lore counter for games. The tutorial is also solid, so if you're looking for a more in-depth explanation, download that. I'm excited to see where Lorcana goes, as it's got a solid start to becoming an enduring game. And the art... it's very good. I know that some collectors will interested because it's Disney—and without strong representation from properties like Brave, Treasure Planet, Encanto, Zootopia, or Atlantis in the game, there's a lot of room for Lorcana to expand in the future.
Lorcana will be released to local gaming stores on August 18, and September 1 at mass market retailers Wal-Mart and Target.
---
Want more io9 news? Check out when to expect the latest Marvel, Star Wars, and Star Trek releases, what's next for the DC Universe on film and TV, and everything you need to know about the future of Doctor Who.