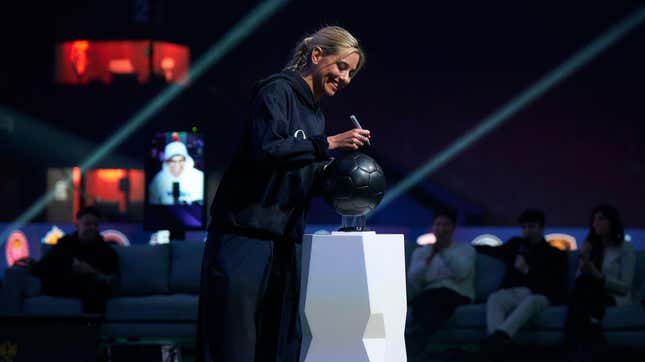 After turning traditional men's soccer on its head with his Kings League, ex-professional soccer player Gerard Piqué now has his eyes set on transforming women's soccer using the same formula: streamers, drama, and video game-like rules.
Behind the Scenes at Gerard Piqué's Kings League Finals
Piqué will debut his Queens League for women's soccer today with six back-to-back games at the league's Cupra Arena stadium in Barcelona. Like in the Kings League, many of the Queens League teams are led by some of the biggest female streamers and influencers in Spain and Latin America, such as Mexican streamer Rivers and Argentinian sports journalist Morena Beltrán. In contrast to traditional soccer games, which are aired on paid TV, all Queens League games will be free to watch on Saturdays on Twitch, YouTube, and TikTok.
Not all teams will be led by women, though. Five streamers from the Kings League, including Saiyans FC president TheGrefg and El Barrio president Adri Contreras, will continue to lead the female division of their teams in the Queens League. (All 12 teams in the Kings League now have a women's division and maintain their team names with slight changes).
"The most important thing about all of this for me is to enjoy the experience and to show people that female soccer is at the same level as male soccer," Twitch streamer Gemita and president of Porcinas FC, the team founded by streaming giant Ibai Llanos, told Gizmodo in February. "We're going to do amazing, and we're going to have a good time."
Queens League soccer, like its male counterpart, is based on indoor soccer and consists of two 20-minute halves. However, Piqué shakes things up by adding his own set of whacky rules. For instance, in minute 18 of the first half, officials throw a huge die on the field and then remove the same number of players from each team, forcing the remaining layers to duke it out with reduced capacity. The Queens League also features several "Secret Weapon" cards that allow coaches to take a penalty kick or have goals count for two points instead of one.
As far as players go, the Queens League players were chosen from a public draft open to any woman in Spain, regardless of whether they had ever played professionally. In order to be considered, applicants had to send a 30-second video showing off their skills to convince Queens League officials to consider them for the competition. On April 16, the streamer-presidents chose players for one of the 10 spots on their teams from a pool of 230 in a livestream at the Cupra Arena.
Former and current professional players will also play in the Queens League. For instance, Melanie Serrano, a former defender who spent 18 years on FC Barcelona's women's team, will join Porcinas FC in the team's inaugural match against Kunitas, the team of retired Argentinian striker Sergio "El Kun" Agüero.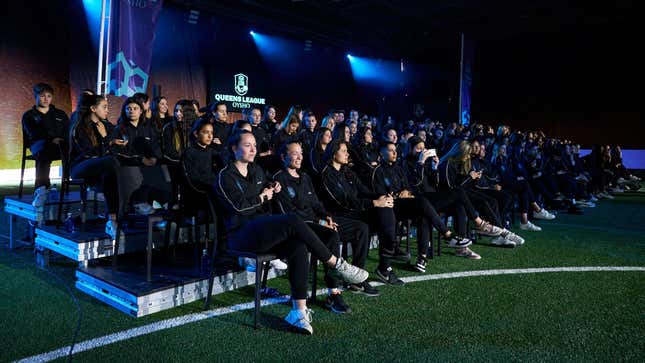 Piqué's new Twitch soccer competition, which debuted in January, has been a surprise success and gained a massive following in a short amount of time. In fact, the title sponsor for the Queens League inaugural season is Oysho, a sports and leisure clothing brand that's part the Inditex empire, which owns Zara. Other notable sponsors include Visa and Gatorade.
In March, the Kings League crowned its first champion in FC Barcelona's Camp Nou stadium before 92,500 people and attracted 2.16 million simultaneous viewers online. The Kings League will also return this weekend for its second season split on Sunday, one day after the Queens League debut, ensuring there is pre-game, game day, and post-game content from both competitions at least four days a week until July. In addition, both Kings and Queens League games will be shown on mainstream TV in Spain every weekend on Cuatro, which is part of the Italian TV giant Mediaset.
Sara Mérida, a former first division women's soccer player who is part of Gemita's Porcinas FC, told Gizmodo in February she believed the Queens League would allow women's soccer to take one big step forward.
"In the end, you can enjoy soccer regardless of gender," Mérida said. "I hope that once and for all, we can stop talking about men's soccer and women's soccer, and simply talk about soccer."
You can watch the Queens League beginning at 10 a.m. ET on the Kings League's channel on Twitch. At the moment, the streams are only broadcast in Spanish.