You may never have noticed, but pinball machines are actually works of art. Yesterday, we featured 50 back glass masterpieces from the collection of PBall Gallery, a pinball museum in Budapest, Hungary. Today, let's look at all the incredible details of the machines themselves.
PBall contains more than 130 of these machines ranging from across the 20th century. After we looked at the back glass yesterday, it's time to change focus and dive deep into the playfield and the backbox, showcasing the artwork and the artifacts of the machines. The following images show all those little details which are so hard to pay attention to when you're trying to keep the balls moving. Enjoy.
This is the second piece of our mini series showcasing awesome pinball machines.
---
The Machine, Bride of Pin Bot (By Williams, United States, 1991)
G/O Media may get a commission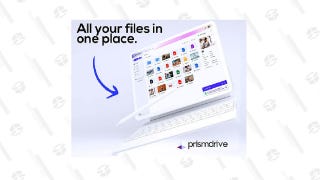 Save 97%
Prism Drive Secure Cloud Storage: Lifetime Subscription
---
Apollo 13 (By Sega, United States, 1995)
---
The Who's Tommy Pinball Wizard (By Data East, United States, 1994)
---
Star Wars (By Data East, United States, 1992)
---
Space Station (By Williams, United States, 1987)
---
Firepower (By Williams, United States, 1980)
---
Spectrum (By Bally, United States, 1981)
---
Xenon (by Bally, United States, 1980)
---
Rolling Stones (By Bally, United States, 1979)
---
The Amazing Spider-Man (By Gottlieb, United States, 1980)
---
Fathom (By Bally, United States, 1980)
---
Space Invaders (By Bally, United States, 1980)
---
Elektra (By Bally, United States, 1981)
---
Jalopy (By Williams, United States, 1951)
---
Airport (By Genco, United States, 1939)
---
Dancing Lady (By Gottlieb, United States, 1966)
---
Centigrade 37 (By Gottlieb, United States, 1977)
---
Criterium 75 (By Recel S.A., Spain, 1975)
---
Fireball (By Bally, United States, 1971)
---
Hayburners II (By Williams, 1968, United States)
---
Winner (by Williams, United States, 1972)
---
Spacerider (By Atari, Japan, 1978)
---
Skill-Pool (by Gottlieb, United States, 1952)
---
Motor Show (by Mr Game, Italy, 1989)
---
Orbitor 1 (by Stern, United States, 1982)
---
Pin-Bot (by Williams, United States, 1986)
---
Hi-Score Pool (by Chicago Coin, United States, 1971)
---
Black Hole (by Gottlieb, United States, 1981)
---
The Simpsons Pinball Party (by Stern, United States, 2003)
---
Indiana Jones: The Pinball Adventure (by Williams, United States, 1993)
---
Revenge From Mars (by Midway, United States, 1999)
---
The Getaway: High Speed II (by Williams, United States, 1992)
---
Star Trek, Enterprise Limited Edition (by Stern, United States, 2012)
---
Doctor Who (by Midway, United States, 1992)
---
Cosmos (by Bally, United States, 1969)
---
Creature from the Black Lagoon (by Midway, United States, 1992)
---
Twilight Zone (by Midway, United States, 1993)
---
Surplus parts in a cabinet
---
(Photos: Attila Nagy/Gizmodo)