You know, with Comic Con 2013 finally starting next week, I'd have thought this would be kind of a quiet comic release day — that the companies would save all their good stuff for next Wednesday. I WAS SO, SO WRONG.
---
New Issues
Dark Horse:
• The True Lives of the Fabulous Killjoys #2: Meet Korse the deadly Scarecrow, Blue the android, and the survivor of last issue's Killjoys attack.
• Star Wars #7: A desperate Princess Leia allows her X-Wing squadron to get captured to infiltrate the Empire.
• Other releases: Breath of Bones #2, Buffy the Vampire Slayer Season 9 #23, Eerie Comics #3, X #3.
G/O Media may get a commission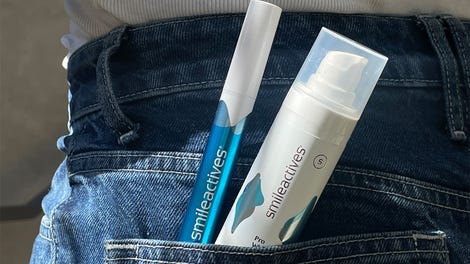 58% off
Whitening Powerhouse Pen & Gel Duo
DC:
• Justice League #22: The Trinity War finally begins. For real.
• Suicide Squad #22: Amada Waller sends the group to Vegas to stop some from rewiring the mind of every single person in America.
• Batman #22: "Zero Year" continues as Bruce Wayne has another run-in with the Red Hood Gang and meets young D.A. Harvey Dent.
• Other releases: Astro City #2, Batgirl #22, Batman: Arkham Unhinged #16, Batman: Lil' Gotham #4, Demon Knights #22, Green Lantern Corps #22, Green Lantern: The Animated Series #14, Katana #6, Nightwing #22, Smallville Season 11 #15, Superman Unchained #2, Threshold #7, World's Finest #14.
IDW:
• Judge Dredd Classics #1: These are classic Judge Dredd comics, in case the title threw you off. Now with color!
• Other releases: Godzilla #13, My Little Pony Microseries #6, TMNT: The New Animated Adventures #1.
Image:
• Sheltered #1: In the small town of Safe Haven, people are prepared for the end of the world — but not for what happens to their children.
• East of West #4: The secret that tore the Four Horsemen apart is revealed.
• The Walking Dead #112: "Carl and Andrea are faced with the unthinkable," the "unthinkable" apparently being "someone carrying a knife covered in blood."
• Other releases: 68 Jungle Jim #4, America's Got Powers #6, Chew #35, The Darkness #114, Ghosted #1, Great Pacific #8, Peter Panzerfaust #12, The Savage Dragon #189, Sheltered #1, Storm Dogs #6.
Marvel:
• Fearless Defenders #6: More Marvel heroines shows up, but this time somebody dies.
• Uncanny X-Men #8: Magneto battles Cyclops while the X-Men try to keep from losing their powers ever again.
• Daredevil #28: Daredevil represents the one person he's ever feared in court.
• Astonishing X-Men #64: Iceman loses his mind and becomes the mad king of a new ice age.
• Other releases: Avengers Arena #12, Hawkeye #12, Indestructible Hulk #10, Secret Avengers #6, Superior Spiderman #13, Thor: The Dark World Prelude #2, Ultimate Comics Ultimates #27, Wolverine #6, Young Avengers #7.
Other:
• Chronos Commandos: Dawn Patrol #1: A group of grizzled WWII soliders are tasked with keeping Nazis from altering time. If you've ever wanted to see Sgt. Rock fight dinosaurs, this is the comic for you.
• Ballistic #1: The scifi comic you need to be picking up this week. If you don't know why yet, check out our exclusive preview and interview here.
• George R. R. Martin's Skin Trade #1: a private investigator with a penchant for seeing incredibly graphic, gory visions gets caught up in a case involving vampires.
• Quantum & Woody #1: The pre-eminent superhero comedy-drama duo of the '90s is back! Two mismatched brothers become even more mismatched heroes after they're caught in a lab experiment.
• Other releases: 12 Reasons to Die #2, A1 #2, Adventure Time: The Candy Capers #1, Bionic Man #21, Black Bat #3, Bubblegun #2, Crossed Badlands #32, Dark Shadows #18, Dead Man's Run #6, Fathom: Elite Saga #4, Grimm Fairy Tales: Demons Unseen #2, Grimm Fairy Tales: Zombies Cursed #1, Grimm #3, Helheim #5, In Crowd #1, Jennifer Blood #29, Mega Man #27, Men of Mystery #90, Miss Fury #4, Mylo Xyloto #6, Night of the '80s Undead #1, Peter Cannon: Thunderbolt #10, Princeless: Tales of the Family: Ashe, Planet of the Apes: Cataclysm #11, Rachel Rising #18, Red Sonja #79, The Shadow/Green Hornet: Dark Nights #1, Six Gun Gorilla #2, Solid State Tank Girl #2, Standard #3, Supurbia #9, The Lone Ranger #16, Unforgivable: Experiment 1134 #1, Victorian Secrets Summer Special #1, Warlord of Mars: Dejah Thoris #27, Westwood Witches #2, Xenoglyphs #4, X-O Manowar #15, Zombies Vs. Cheerleaders Vol. 2 #2.
---
Trade Paperbacks and Hardcovers
Dark Horse:
• Avatar: The Last Airbender Vol. 5: The Search Part 2: The search for Zuko's mother continues into a forest where not all is as it seems.
• Other releases: Star Wars: Purge, Tokyo Babylon Vol. 2.
DC:
• Absolute Blackest Night: The DC universe's darkest prophecy comes true as superheroes and villain rise from the dead to extinguish all life from the universe.
• He-Man and the Masters of the Universe Vol. 1: Skeletor has won and the Masters are scattered. Can Prince Adam regain his memory and save Eternia before Skeletor's minions kill him?
• Harlan Ellison's 7 Against Chaos: The legendary scifi writer joins forces with Concrete's Paul Chadwick to tell a tall of seven alien warriors who must learn to work together to save Earth and reality.
• Other releases: Before Watchmen: Comedian & Rorschach, Before Watchmen: Nite Owl & Dr. Manhattan, Diablo: Sword of Justice, Justice League Dark Vol. 2: Books of Magic, Saga of the Swamp Thing Book 4, Supergirl Vol. 2: Girl in the World.
IDW:
• Best of EC: Artist Edition: The greatest comics EC ever produced — scifi, horror, war and crime — in one gargantuan tome. Comes complete with a cover gallery, too.
• The X-Files Classics Vol. 1: Containing the earliest X-Files comics, including the stories "Not to be Opened Until X-mas," "Firebird," "Trepanning Opera," and more.
• Other releases: Ghostbusters Vol. 5: New Ghostbusters, Lock & Key Vol. 5: Clockworks, TMNT Ultimate Collection Vol. 2.
Image:
• Dawn: Swordmaster's Daughter: Joseph Michael Lisner returns to his most famous creation with tales of the young Dawn.
• Other releases: Prophet Vol. 2: Brothers, Savage Dragon: On Trial, Skullkickers: 80 Eyes on an Evil Island.
Marvel:
• Hawkeye Vol. 2: Little Hits: "Ace archer Clint Barton battles Superstorm Sandy, digital doomsday, dog detectives, lady problems, murder for money and more." Oh, and tracksuits.
• Superior Spider-Man: Superiority Complex: Doc Ock, firmly ensconced in Peter Parker's body, must team up with the FF and the X-Men.
• Thor, Gods, and the Guardians of the Galaxy: Thor's most cosmic adventures collected, as he battles Damocles, Faust, and Korvac.
• Other releases: Avengers Premiere Vol. 2: Last White Event, The Dark Tower: Gunslinger: Way Station, Essential Captain America Vol. 7, FF Vol 1: Fantastic Faux, Gambit Vol. 2: Tombstone Blues.
Other:
• Bravest Warriors Vol. 1: The scifi story from Adventure Time creator Pendleton Ward, based on the Cartoon Hangover series! Five overemotional 16-year-olds svae the galaxy with their… emotions.
• Templar: After the Pop and King of France frame the Templars and order them executed, a small group of survivors head out to find the lost treasure of the Templars and restore their order.
• Other releases: Aldebaran Vol. 3: Creature, Animals with Sharpies, Antares Vol. 2: Episode 2, Arsenic Lullaby: Big Stall, Artemis Fowl Vol. 3: Eternity Code, Blake and Mortimer Vol. 14, Boneyard: Biggening, Buck Rogers in the 25th Century: Western Years Vol. 1, Case Closed Vol. 47, Death of Haggard West, The Dresden Files: Fool Moon Part 2, Eye of the Majestic Creature Vol. 2, False Memories Vol. 1, Fullmetal Alchemist 3-in-1 Vol. 5, Genius, Hide and Seek Vol. 1, Infernal Fyre Dragon, Jason: Lost Cat, Loveless 2-in-1 Vol. 4, Lucky Luke Vols. 33 and 34, Mouse Guard Vol. 3: Black Axe, Rin-ne Vol. 12, Silver Six, Tales of Discord, Thorgal: Guardian of the Keys, Tiger & Bunny Vol. 2, Valerian Vol. 3: Land Without Stars, Vampire Hunter D Vol. 7, Wolfsmund, Workburger, Zombeellenium Vol. 1: Gretchen.
---
As usual, here's the list of everything being released to comic stores tomorrow, and you can find your nearest comic retailer here.